Abortion Votes Complicate Supreme Court's Conservative Shift
(Bloomberg) -- The U.S. Supreme Court's move to the right is going to be complicated.
That much is clear after a 5-4 decision Thursday night blocked a Louisiana law that would require doctors who perform abortions in the state to get admitting privileges at a local hospital.
Behind the raw vote total were nuanced positions staked out by Chief Justice John Roberts and Justice Brett Kavanaugh, the two jurists who probably will determine the pace and ultimate destination of the court's ideological shift.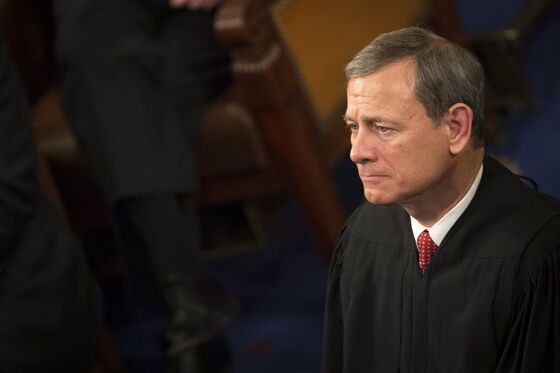 Roberts joined the court's four Democratic appointees in the majority on Thursday night, renewing speculation that he'll restrain the court's conservative wing on abortion and other divisive issues. The vote represented a change of sides for Roberts, who dissented when the court struck down an almost identical Texas law in 2016.
But Roberts gave no explanation Thursday, leaving his rationale in doubt. The case didn't directly challenge the 2016 ruling, much less the landmark 1973 Roe v. Wade decision that legalized abortion nationwide.
The dispute stemmed from a federal appeals court decision that said the Louisiana law wouldn't affect abortion services to the extent the Texas measure did. An abortion clinic and two doctors sought to halt that ruling while they ask the justices to hear their appeal.
Should the court agree to hear that appeal -- as now seems likely -- Louisiana could ask the justices to overturn the 2016 decision. The case would probably be part of the nine-month term that will start in October.
Roberts has been more cautious than other conservatives about overruling precedents. "It is a jolt to the legal system when you overrule a precedent," he said at his 2005 confirmation hearing.
Some observers say they think Roberts eventually will cast the pivotal vote to overturn the 2016 Texas ruling, known as Whole Woman's Health v. Hellerstedt.
"He's a reliable anti-abortion vote," Brian Fallon, who leads the progressive judicial advocacy group Demand Justice, said of Roberts. "He probably just viewed this as a procedural question and he's planning to save his big gambit for a later time when the issue comes back on the merits."
Others saw at least some significance to Roberts's vote. While it doesn't commit the chief justice to reaffirming Whole Woman's Health, "it does suggest that he is at least in a go-slow mode," Cornell Law School Professor Michael Dorf wrote on his blog.
Kavanaugh distinguished himself from the three other dissenters, laying out his reasoning and suggesting it was narrow. He called the Whole Woman's Health ruling the "governing precedent for the purposes of this stay application."
That 5-3 ruling, made when the court was short one justice, said the Texas law provided "few, if any, health benefits for women, poses a substantial obstacle to women seeking abortions, and constitutes an undue burden on their constitutional right to do so."
Kavanaugh said it wasn't yet clear whether the Louisiana law would have a similar impact. He pointed to competing predictions about whether three doctors currently without privileges will be able to get them.
If the doctors could get privileges, "the new law would not impose an undue burden for purposes of Whole Woman's Health," Kavanaugh wrote. But if they couldn't, "then even the state acknowledges that the new law might be deemed to impose an undue burden" under the 2016 ruling.
Although Kavanaugh would have let Louisiana's law take effect, he said it wouldn't have had any practical consequences for at least 45 days. During that period, designed for the state to determine who had the necessary privileges, doctors could continue to perform abortions, he said. If they couldn't get admitting privileges, they could file a new challenge, Kavanaugh said.
Opponents say the law would leave the state with only one clinic and a single abortion doctor because no one will risk the civil and criminal penalties the measure imposes for noncompliance. The state says no clinic would have to close immediately. The Kaiser Family Foundation estimated that 9,362 abortions were performed in Louisiana in 2015, the most recent figures it provided.
Kavanaugh, President Donald Trump's second Supreme Court appointee, replaced Justice Anthony Kennedy, who generally supported abortion rights. During Kavanaugh's confirmation hearing last year Democrats said they were concerned he could vote to overturn Roe v. Wade. He didn't rule directly on abortion rights in 12 years as an appellate judge.
On Thursday, Kavanaugh indicated he wasn't eager to take up the issue. He suggested his approach might let the court avoid hearing an appeal, something he said now is likely to happen next term.
Hearing the case "will take far longer and be no more beneficial than the approach suggested here," Kavanaugh wrote.