Abe Relies on Old Friends and Old Men for Japan's New Government
(Bloomberg) -- Japanese Prime Minister Shinzo Abe replaced more than a dozen ministers Tuesday in a cabinet shake-up intended to carry his agenda into an historic third term as ruling party leader.
But while a host of new faces will be filing into the Kantei with orders to tackle some of Japan's most stubborn political problems, Abe avoided any major changes to the status quo. The premier left key economic and foreign policy posts unchanged and brought back an old ally forced to resign following a scandal two years ago. The cabinet features only one woman and no ministers younger than 52.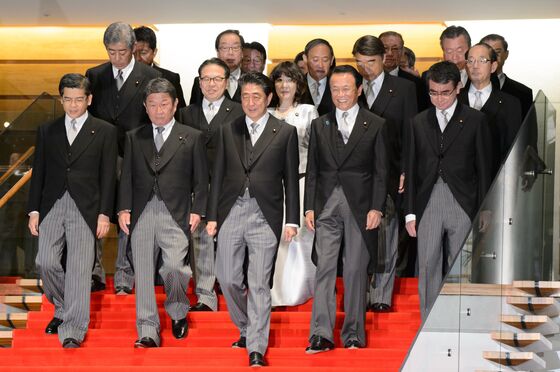 Here's a few things we've learned from Abe's new government:
The premier decided to continue Taro Aso's streak as Japan's longest-serving finance minister since World War Two. The 78-year-old Aso -- who's also a former prime minister -- will stay on despite a series of Finance Ministry scandals that drove down Abe's poll numbers and even sparked speculation that he might step down. One reason is Aso's leadership of the ruling Liberal Democratic Party's second-largest faction, which helped propel Abe's election to another term last month.
2. Election worries persist
Fresh off a stinging poll defeat in the southern prefecture of Okinawa on Sunday, Abe has rehabilitated a former member of his inner circle to lead the LDP's election strategy committee. Akira Amari, 69 -- Japan's chief negotiator on the Trans-Pacific Partnership regional trade pact -- had resigned as economic minister in 2016 over a financial scandal. Amari will be tasked with preserving the ruling coalition's two-thirds majority in an upper house election next year.
3. 'Womenomics' stalls in parliament
Despite his vow to advance the role of women in Japanese society under a policy dubbed "Womenomics," Abe's 19-member cabinet contains just one female lawmaker, Regional Revitalization Minister Satsuki Katayama, 59. That's the lowest number since Abe took power in December 2012. The prime minster acknowledged the lack of women in a news conference Tuesday, saying he thought his efforts would help more female politicians advance in future cabinets. The cabinet's average age is 63 years, with Abe turning 64 last month.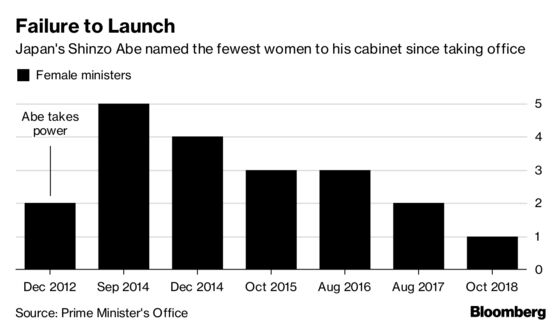 4. There's still no heir-apparent
The prime minister promoted few ministers viewed as having strong prospects of succeeding him. Shinjiro Koizumi -- the 37-year-old son of a former prime minister and the LDP's most popular politician -- was left out. So was Shigeru Ishiba, a former defense minister who challenged Abe as party chief last month. Fumio Kishida, who Abe has mentioned as a potential leader, remains party policy chief. The line-up will, however, probably increase speculation about Taro Kono's future, since Abe decided to keep him on as foreign minister, despite his criticism of the government's climate policy.
Economy Minister Toshimitsu Motegi, 62, who was already preparing to face U.S. Trade Representative Robert Lighthizer in bilateral trade talks that Abe and Trump agreed to last month, will take on a newly created role that's key to achieving Abe's agenda. The minister will also be asked to spearhead a potentially unpopular revamp of the country's pension system. Abe said last month he wanted to make it easier for people to keep working beyond the traditional retirement age and let them choose to collect their pensions after they turn 70.
6. Big challenges await defense chief
Incoming Defense Minister Takeshi Iwaya, 61, will face challenges that stretch beyond regional rivals China and North Korea. With Japan under pressure from Trump to bolster defense spending, Iwaya is promising policy changes in reviews of the country's National Defense Program Guidelines and Medium Term Defense Program later this year. He may also play a role promoting Abe's controversial plans to amend a pacifist provision of Japan's postwar constitution to make clear the legality of the country's armed forces.