Abbas Compares Trump Map to Swiss Cheese in Combative UN Speech
(Bloomberg) -- Palestinian Authority President Mahmoud Abbas slammed President Donald Trump's peace proposal at the United Nations on Tuesday, calling on the international community to stand up to a U.S. proposal he said lacks legitimacy.
Holding up a map of the Trump plan in a UN Security Council meeting, Abbas said the land allocated for Palestinians looked like Swiss cheese due to the settlements that pockmark the West Bank. He scorned the U.S. for trying to push for a solution that defied the international consensus on issues like Jerusalem, borders and refugees, but vowed not to respond with violence.
"I would like to say to Mr. Donald Trump that the proposed American deal cannot achieve peace and security because it lacks any international legitimacy," Abbas said. "This plan rewards the occupation instead of holding it accountable for all the crimes perpetrated against our people and our land."
Abbas' speech came after Tunisia, which represents Arab countries on the Security Council, withdrew a resolution critical of the plan following U.S. pressure. Palestinians had hoped to put a resolution to a vote at the council on Tuesday in a bid to isolate the U.S. Instead, the resolution was pulled and Tunisia's UN Ambassador, Moncef Baati, was abruptly recalled and dismissed last week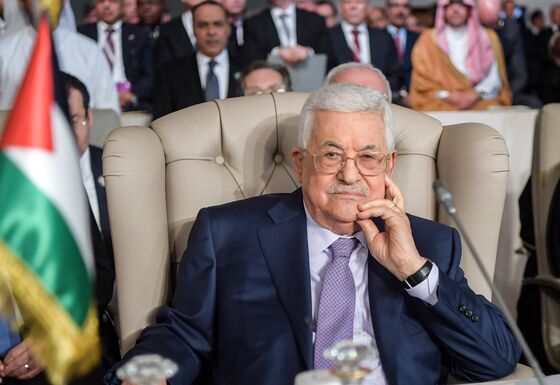 Trump's Mideast proposal, announced as he stood alongside Prime Minister Benjamin Netanyahu last month, would recognize Israel's sovereignty over all Jewish settlements and the Jordan Valley. U.S. Ambassador Kelly Craft said the proposal, drafted by Trump's son-in-law Jared Kushner, was an "opening offer" and the "beginning of a conversation."
But Danny Danon, Israel's envoy to the UN, said Abbas' visit to New York demonstrated he was not serious about peace.
"If President Abbas were serious about negotiations he wouldn't be here today," he told the council. "He'd be in Jerusalem or in Washington. He came here to distract from his unwillingness to negotiate."
Palestinian officials declined to take part in the drafting of the U.S. peace proposal after Trump unilaterally moved the American embassy to Jerusalem and cut funding for a UN agency aiding Palestinian refugees.