Jim Jordan Rounds Up a Rapid-Response Squad: Impeachment Update
(Bloomberg) -- The U.S. House's single article of impeachment of former President Donald Trump for inciting the Jan. 6 insurrection at the Capitol is to be delivered ceremoniously by a contingent of House members walking across the Capitol to the Senate on Monday evening.
House Democratic impeachment managers, who will prosecute the case, and Trump's defense team will have until the week of Feb. 8 to draft opposing briefs under an accord that gives the two sides time to prepare and senators time to consider President Joe Biden's Cabinet nominees and begin work on his Covid-relief plan.
Jim Jordan Is Rounding Up a Rapid-Response Squad
Representative Jim Jordan of Ohio, the top Republican on the House Judiciary Committee, and several like-minded House colleagues are looking to reprise an impeachment trial rapid-response group to advise Trump's legal team and speak to the media, according to multiple people involved.
A similar effort was mounted during Trump's first impeachment trial by eight House Republicans, acting apart from Trump's formal impeachment defense lawyers.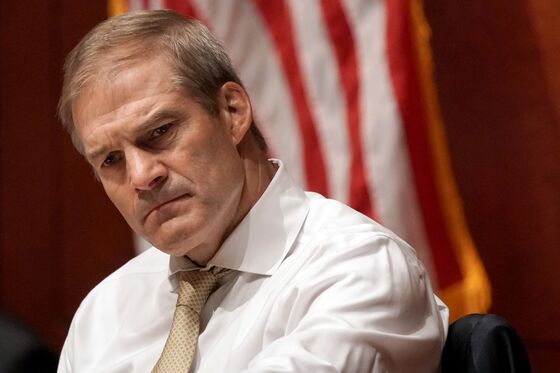 Jordan didn't respond Monday to requests to talk about efforts to revive such a squad, or how that might dovetail with the trial strategies of Trump's new post-presidency legal team, to be headed by South Carolina lawyer Butch Bowers. There had been some uncertainty over whether such a team was wanted, and whether lawmakers wanted to participate.
But people familiar with the plans said efforts to organize the squad are underway, with Jordan and several colleagues planning to look for opportunities during the trail to highlight what they see as a rushed impeachment and political overreach.
Some of the House Republicans who participated in the earlier team are no longer in Congress. Mark Meadows of North Carolina went on to serve as Trump's White House Chief of Staff, and John Ratcliffe of Texas became Director of National Intelligence. Doug Collins of Georgia, who was the top Republican on the Judiciary panel, is no longer in Congress.
Others on that team who remain in the House, and had no immediate comment, include Elise Stefanik and Lee Zeldin of New York, Mike Johnson of Louisiana and Debbie Lesko of Arizona. -- Billy House
Senator Leahy Promises Fair Rulings (3:02 p.m.)
Senator Patrick Leahy is promising fair rulings as he presides over Trump's politically charged impeachment trial.
"I'm not presenting the evidence. I am making sure that procedures are followed," the Vermont Democrat told reporters. "I don't think there's any senator who over the 40-plus years I've been here that would say that I've been anything but impartial in ruling on procedure."
But his ability to be impartial was questioned by Republican Senator John Cornyn of Texas, who asked on Twitter, "How does a Senator preside, like a judge, and serve as juror too?"
Leahy, 80, is the longest-serving sitting senator, having been elected in 1974 in the wake of Watergate. He's a former chairman of the Judiciary Committee and is the top Democrat on the Appropriations Committee. -- Laura Litvan and Daniel Flatley
Senator Leahy Expected to Preside (1:08 p.m.)
Leahy, the Senate president pro tempore, is expected to preside over the trial that will begin formally when the Senate is sworn in to service on Tuesday at 1 p.m. Washington time, according to a person familiar with the plans.
Leahy, a Democrat from Vermont, could make rulings that could give Democrats an edge on procedure.
There's been much conjecture on who would be in the presiding officer's chair. The Constitution requires that the Supreme Court's chief justice preside over impeachments of presidents. But Trump is no longer president, so Chief Justice John Roberts won't be filling that role as he did in Trump's first impeachment trial.
As a legal matter, the issue lacks any clear precedent, though a 1993 Supreme Court decision suggests the judiciary might defer to the Senate. In that case, the court said it was a "political question" -- and therefore beyond the purview of the courts -- when an impeached judge objected to the use of a Senate committee to hear evidence as part of his trial.
-- Steven Dennis and Greg Stohr
A Ritual Delivery From House to Senate (12:15 p.m.)
When House managers walk the article of impeachment against Trump across the Capitol at about 6:55 p.m. Washington time Monday evening, they'll be repeating a ritual that dates back to President Andrew Johnson's 19th century trial.
House Clerk Cheryl Johnson and Timothy Blodgett, the House's acting sergeant at arms, will lead a procession along with the nine House managers who will argue the case for impeachment in the Senate trial. Their arrival will trigger the formal start of proceedings.
The route through the House's Statuary Hall and the Capitol Rotunda to the Senate was first followed in 1868 by Representative Thaddeus Stevens one day after the House voted to impeach Johnson. Stevens was so weak from an illness that he had to be carried in a chair by attendants.
House Intelligence Chairman Adam Schiff and House Judiciary Chairman Jerrold Nadler followed the same route last year to start Trump's first impeachment trial, with each House manager carrying a blue leather-bound notebook.
This time, the lead impeachment manager, Representative Jamie Raskin, will read the article of impeachment on the Senate floor, charging Trump with incitement to insurrection. Then the nine managers are scheduled to return to the House.
The Senate will be sworn in to service on the trial on Tuesday at 1 p.m. Washington time. -- Mike Dorning