A New Opposition Leader in Malaysia Is Ready for an Election
(Bloomberg) -- As Malaysia's opposition bloc struggles to resolve the impasse between its two key leaders, a new contender is weighing his entry to the race for the top seat.
Shafie Apdal, head of the Warisan Party, is poised to become the first prime minister candidate from East Malaysia by putting himself forward as the solution to the intractable disagreement between former premier Mahathir Mohamad and his long-time rival Anwar Ibrahim.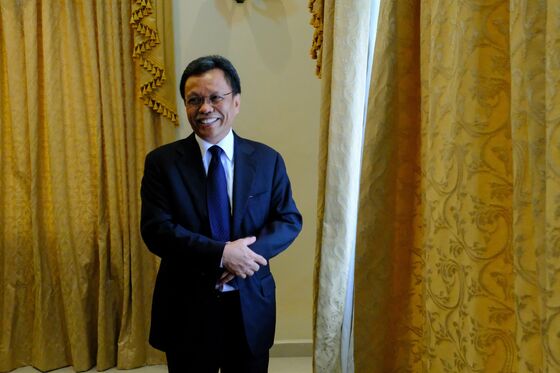 Anwar lacks the support to become premier, Shafie told reporters on Tuesday. Mahathir, 95, has spent more than two decades in power including the latest stint that ended with his abrupt resignation in February, following a long-standing dispute over when he would fulfill his promise to hand over power to Anwar. Muhyiddin Yassin was then named prime minister by the king to resolve the political turmoil that followed Mahathir's departure.
Shafie said his name was first proposed by Democratic Action Party, the largest in the opposition bloc, as well as the Amanah party with Mahathir backing the move. DAP and Amanah have since wavered in their position as the coalition struggled to agree on a candidate.
"Let's have an election, why not?" Shafie said, adding that parliament is effectively hung considering the slim margin controlled by Muhyiddin. Shafie himself is continuing talks with opposition parties to ensure he has their support to become prime ministerial candidate.
Shafie was responsible for breaking Barisan Nasional's longtime stronghold on the East Malaysian state of Sabah in the 2018 shock election, and retained his grip over the state when BN returned to power earlier this year. The 62-year-old started his political career as a member of BN, before setting up his own party based in Sabah when former prime minister Najib Razak dumped him from the cabinet in 2015 amid a dispute over troubled state fund 1MDB.
While Peninsular Malaysian states tend to play an outsize role politically and economically, East Malaysian states Sabah and Sarawak have stepped up calls for greater autonomy and fairer distribution of wealth.
As the country imposed and then eased lockdown measures to contain the coronavirus pandemic, the two Borneo states set their own rules for curbing the spread of infections. Oil-producing Sarawak is finalizing a deal with state oil company Petroliam Nasional Bhd. over a sales tax on petroleum products, and Sabah is seeking a similar due, Shafie said.
Shafie is working on an agricultural blueprint to ensure food security in Sabah as a way to compete domestically and globally, with the state's proximity to China and Japan likely to be an advantage, he said on Tuesday. He also plans to open up the sector for more tourism to create jobs.
The two Borneo states comprise a quarter of the country's 222 parliamentary seats and have often played the role of kingmaker in Malaysian politics.
"I believe that it was the dream of our forefathers when we formed Malaysia," Shafie said on the possibility of a prime minister from East Malaysia for the first time. "We are equal partners."