A Firebomb Exposes East Europe's Struggle With Media Freedom
(Bloomberg) -- Barefoot and in pajamas, Milan Jovanovic watched flames engulf his Belgrade house after a Molotov cocktail crashed through a window in an attack before dawn.
He and his wife survived only because she smelled the smoke. "They nearly burned us alive," said Jovanovic, a 68-year-old investigative journalist who writes about government corruption.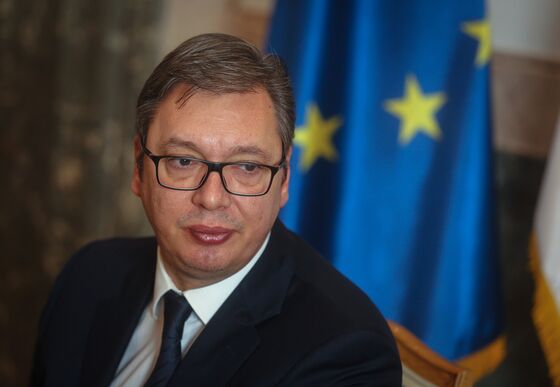 Jovanovic is the latest journalist in Serbia to come under attack in what opponents of President Aleksandar Vucic and his ruling party say is an increasingly hostile environment for media. His is a country with aspirations to join the European Union in the next decade.
The Balkan state has joined an unbroken strip of countries in eastern Europe stretching from the Baltic to the Adriatic Sea where populist parties have taken over state media and denounced critics as spreading lies.
Physical attacks, harassment by police and politicians and even the murder of a reporter have drawn condemnation across former communist Europe and are threatening to unravel decades of progress building the rule of law.
Attacks against Serbian journalists rose to 102 last year, the most since 2008, including seven physical assaults, according to a database compiled by the Independent Association of Serbian Journalists. There were 72 instances of "pressure," which includes harassment by name by politicians and state-backed media.
Many place the guilt with Vucic, who was the minister of information for the late strongman Slobodan Milosevic during the war with Kosovo in the late 1990s. The government, led by his Serbian Progressive Party, has pulled advertisement funding from state-owned companies in opposition-linked publications. He and his allies have also frequently used their public positions to denounce media figures.
That contributed to Serbia falling 10 spots in the World Press Freedom Index last year, to 76th out of 180 countries, its worst ranking since 2013. Reporters Without Borders describes the country as a place "where it is unsafe to be a journalist."
And while Vucic has pledged to clinch Serbia's entry into the EU sometime next decade, RSF says it "utterly fails to meet EU press freedom standards."
"Attacks on journalists in the last period are getting more diverse," Pauline Ades-Mevel, head of the EU and Balkan desk at Reporters Without Borders, said in an email. "We have noted not only physical attacks, but also death threats against journalists on social media, as well as smear campaigns against prominent independent journalists in tabloids."
Democracy watchdog Freedom House knocked Serbia's 2018 classification from "free" to "partly free," noting "the massive centralization of power in the hands of one person, President Aleksandar Vucic."
Vucic disputed the allegations that the government, run by his hand-picked prime minister, Ana Brnabic, was contributing to attacks or media or the suppression of dissenting voices.
"Everybody has a right to say what he or she wants in our country. We have free gatherings every single day," he said in an interview on the sidelines of a security conference in Munich this weekend. "Of course I'm not an ideal person. Serbia is not Germany or Austria, or Switzerland. Of course we are not, but we need to work very hard in the future to improve all these things."
Serbia's case highlights a growing worry around press freedom in the region.
In Slovakia, protests toppled former Prime Minister Robert Fico after the execution-style murder of investigative journalist Jan Kuciak and his girlfriend last year. In Hungary, allies of Prime Minister Viktor Orban have created the biggest state-allied propaganda machine in Europe. And Poland's nationalist government is on a self-proclaimed mission to return media assets into the hands of Polish investors.
There is growing scrutiny on Serbia to ensure the safety of its journalists. In Jovanovic's case, police found the perpetrators within a week, including a nightclub entertainer who confessed driving the attacker that threw the firebomb.
At first they punished just one with a 50,000 dinar ($482) fine and house arrest.
But, following weeks of anti-government rallies demanding full investigation, authorities moved against the man believed to have ordered the assault: Dragoljub Simonovic, the head of the city of Grocka and former chief of Serbia's state railways, who Jovanovic had written about extensively.
Vucic made a TV announcement that the prominent member of his party will face criminal charges -- though prosecutors have yet to decide which ones.
"Everything we had burned." Jovanovic said. "Nobody from the government even tried to contact me to help."