A Border Crisis of Epic Proportions
(Bloomberg) -- The vast numbers of people fleeing Venezuela as it slides into ruin under Nicolas Maduro have reached European proportions. Flooding into Brazil, Ecuador, Colombia and Peru, the refugees are spurring a humanitarian, economic and political crisis.
Since 2015 more than 1.6 million have left, and the United Nations estimates about 5,000 Venezuelans now cross the porous border each day. South America hasn't seen that sort of population displacement for decades, if ever, and it's taxing both the resources and patience of Venezuela's neighbors.
Peru now requires Venezuelans entering the country to have a valid passport; yesterday it declared an emergency on parts of its border with Ecuador. Brazil's President Michel Temer has authorized the deployment of the army in the border state of Roraima. Many locals have pitched in to help the refugees, but some also complain that drug trafficking and prostitution are rising, and even larger economies like Brazil will find the crisis a stretch.
The situation highlights the dilemma about how to deal with Venezuela itself. Maduro has endured, despite bringing his country to its knees. And while his neighbors wrestle with the fallout, there's no indication they can or will do much about the regime causing it all.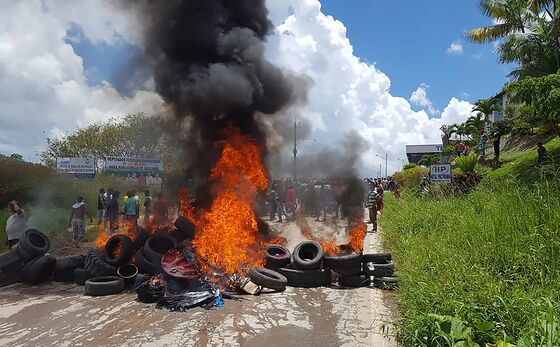 Fresh target | U.S. President Donald Trump has re-calibrated his campaign against what he calls unfair media coverage, warning Google and other online companies that he could take action against them. Experts say it's unclear what specifically he or Congress could do. Key lawmakers have suggested limiting the industry's exemption from liability for the content users post, but that idea has so far gained little traction.
State's first woman | Arizona is set to elect its first female senator in November, after voters selected Republican Martha McSally and Democrat Kyrsten Sinema as their candidates in a race that will be pivotal to Democrats' long-shot bid to take control of the chamber. That's as the network led by billionaire Charles Koch plans to spend $5 million on an advertising campaign to help Republican Senate candidates three other critical states.
The Florida governor's race is shaping up as a potential indicator for 2020, with a Trump-backed candidate facing a Democrat endorsed by Bernie Sanders in the presidential battleground state.
TicToc by Bloomberg will be taking a closer look at the midterms every Tuesday leading up to November. Click here for the first installment, with Wes Kosova and Sahil Kapur discussing how likely Democrats are to take control of the House and possibly the Senate.
Trouble for Trudeau | Cracks are emerging in the united front Canadian Prime Minister Justin Trudeau has until now managed to hold together as he battles with Trump over the Nafta. Even amid a breakthrough that's brought Ottawa back to the negotiating table, Trudeau's political rivals are pivoting to blame him if the pact falls apart, Josh Wingrove reports. The U.S. is pressing for an tentative agreement by Friday.
Brexit endgame | The U.K. and EU are sticking to their goal for a divorce deal in October, at least in public. Behind closed doors officials say that's unlikely due to deep divisions that remain. So it's November, assuming British Prime Minister Theresa May can keep her own side in line. Yesterday, she couldn't even say if she'd vote for Brexit given another chance and speculation is mounting that party favorite Boris Johnson is plotting to topple her.
New Silicon Valley | President Xi Jinping's dream of transforming Hong Kong's Pearl River Basin into a high-tech powerhouse to rival California is driving rising tensions over Beijing's influence. Hong Kong wants to maintain the high degree of autonomy promised before its return from Britain and remains suspicious over China's intentions. But the area could serve as a new growth engine for the city, and its expected trillion-dollar economy will eclipse Japan as the world's fourth-largest exporter.
And finally ... Emmanuel Macron lost some of his green credentials after his star minister — climate activist and former TV celebrity Nicolas Hulot — shocked the nation by resigning during a live radio broadcast, with cameras rolling. The French president had promised to "Make Our Planet Great Again" in a jibe against Trump. But as Hulot stepped down from his post at the Energy and Environment Ministry, he said Macron had done little to end climate change with his "small steps policies."