Trump Barnstorms in Final Midterm Election Push for GOP
(Bloomberg) -- President Donald Trump is barnstorming the country until Monday night in support of Republican candidates for Congress and other offices in Tuesday's mid-term elections, which will determine which party controls Congress for the next two years.
Trump Troubled by 'Terrible' Yemen Images (7:39 p.m.)
A short but wide-ranging Axios interview with the president ran Sunday night on HBO. Some of the most contentious topics, including Trump's plan to do away with birthright citizenship, were previewed in recent days.
Trump spoke about Yemen, where a Saudi-led coalition is fighting Iranian-backed rebels. Yemen's been deemed by the UN to be the world's worst humanitarian crisis. In August, Saudi-led forces reportedly used an American-made bomb to blow up a school bus, killing over 50 people including dozens of children.
"It's a terrible situation. I hated seeing what happened with the bus and the children," Trump said. He didn't directly address a question on whether he now had second thoughts about selling weapons to Riyadh. "We're gonna see, and we're looking at Yemen very carefully right now. We are actually studying Yemen very, very carefully."
Trump said his administration was looking seriously at antitrust investigations against tech giants Google, Facebook and Amazon -- similar sentiments to those he expressed in an Oval Office interview with Bloomberg in August, as well as Twitter posts about what conservatives see as suppression of their voices.
In more prosaic matters, Trump said he'd become unhappy with the "extremely expensive" pen he uses to sign things, and has started using a special Trump-signature Sharpie instead. -- By Alex Wayne and Ros Krasny
'Something's Happening,' Trump Tweets (3:05 p.m.)
Citing "massive" crowds gathering for his 4 p.m. ET rally, the president tweets that he has the momentum: "Something's happening! Everyone needs to get out and VOTE!"
Trump Tells Reporters His Focus is on the Senate (1:56 p.m.)
President Trump tells reporters at the White House that his primary focus has been on keeping the Senate, and that his efforts are making a difference. Republicans are poised to keep the Senate, he said, while also expressing optimism about the GOP's prospects to keep control of the House.
Trump campaigns Sunday in Macon, Georgia, and Chattanooga, Tennessee. Monday, the final day before Tuesday's election, he'll be in Ohio, Indiana and Missouri. All five of those states backed Trump in 2016 and feature swing races for governor or Senate this year. Democratic Senator Chris Van Hollen said Sunday Democrats "face the toughest political map in 60 years" in the Senate, defending seats in pro-Trump states from Montana and North Dakota to Indiana and Missouri.
Before he boarded Marine One, Trump said his plans for a follow-up 10% tax cut targeted at middle-income families is on the ballot. While Republicans have said they'll take the issue up as part of a tax cut 2.0 package early in the new year, Trump warned that it yet-to-be-drafted tax reduction might not happen if Democrats win the House. -- By Derek Wallbank and Alyza Sebenius
Many See Tuesday as a 'Change' Election (9:35 a.m.)
President Trump isn't on the ballot on Tuesday, but midterm elections are typically a referendum on the occupant of the White House. A new NBC/Wall Street Journal poll released on Sunday showed Trump's approval rating at 46 percent, up a tick from 45 percent in October. But 40 percent say their vote on Tuesday will be a signal of opposition to Trump against 32 percent who intend to vote to show support. And some 59 percent of registered voters say they want a "great deal" or "quite a bit" of change in the country's direction.
Also out overnight, the Washington Post-ABC News poll put Trump's approval at 40 percent, up from 36 percent in the same series in August. Both surveys showed Democrats with a lead in Congressional preference, but that gap has narrowed as voting day approaches. -- By Ros Krasny
Democrat Gillum Isn't 'Equipped' to Be Governor (9:01 p.m.)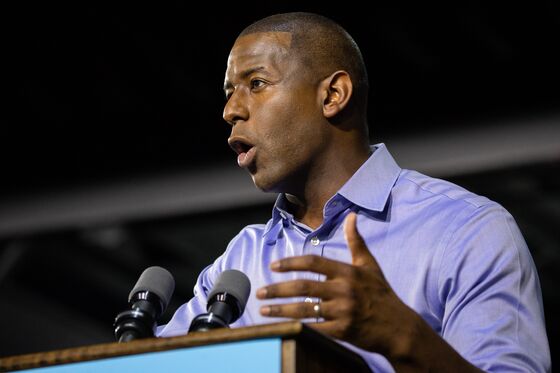 Trump says Tallahassee mayor Andrew Gillum isn't "equipped" to be Florida's next governor. "It's not for him." He earlier described the Democrat as a "radical socialist." The comments comes two days after the president disparaged Stacey Abrams, the Democratic candidate for governor of Georgia. "Her past," Trump said of Abrams without elaboration, left her "not qualified to be the governor."
Gillum and Abrams are vying to be the first black governors in their respective states. Both have been targets of racist robocalls. Abrams -- like Supreme Court Justice Brett Kavanaugh, whose intellect Trump regularly praises -- is a graduate of Yale Law School. -- By Ros Krasny
You Never Call, You Never Write, Trump Tells Democrat (8:45 pm)
Trump is up in Pensacola, reciting talking points about manufacturing jobs, illegal immigration ("it's a little suspicious how those caravans are starting") and China trade ("they want to make a deal"). In a nod to Florida's large retiree population, Trump spoke at length about cutting drug prices. The president also reprised his earlier ode to barbed wire. "I looked at they way they worked and I watched the barbed wire being put down -- barbed wire."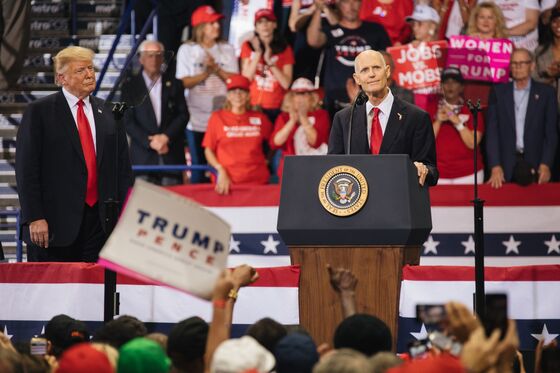 He's pushing hard for Rick Scott to swap the Florida governor's mansion for a seat in the U.S. Senate. He's picking up on the theme of an earlier tweet -- that Democratic Senator Bill Nelson has never, in almost two years "called to ask for help for the Great State of Florida." Scott, by contrast, has called endlessly, Trump says.
Ron DeSantis, the Republican candidate for governor, took the stage to suggest to Trump that he'd lobby the president's sons, Don Jr. and Eric, to move the Trump Organization's headquarters to Palm Beach. -- By Shannon Pettypiece
Trump to Hold Telephone Town Hall Meeting (8:13 p.m.)
Rounding out his pre-election rallies across the country, Trump will participate in a "telephone town hall meeting" on Monday at 10 a.m. EST, the Trump campaign announced. Participants will be drawn from some 2 million swing-district and swing-state voters who've backed Trump since 2016, targeted through a "sophisticated outbound call recruitment system." Congressional leaders including Senator Mitch McConnell will also make remarks. -- By Toluse Olorunnipa
Off to Florida to Stump for Scott, DeSantis (4:25 p.m.)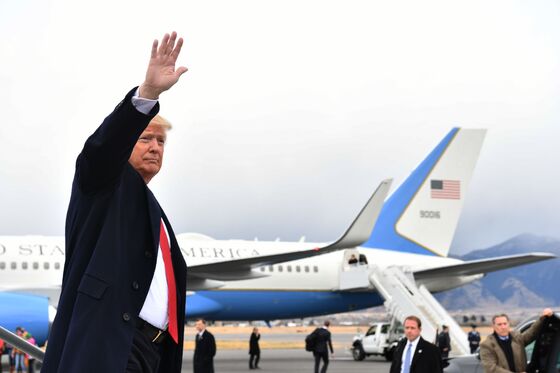 That's a wrap for Trump's Montana rally. He'll now fly about 2,000 miles to the southeast for a speech at Pensacola International Airport due to start at 7:30 p.m. EDT. That's about 130 miles west of where Hurricane Michael made landfall last month. The monster storm's been blamed for at least 36 deaths and major property losses in an area loyal to Trump.
Trump is trying to flip the U.S. Senate seat held by Democrat Bill Nelson, who's running against outgoing Governor Rick Scott. Jockeying to replace Scott is Trump-backed Representative Ron DeSantis against insurgent Democrat Andrew Gillum, mayor of Tallahassee. Both races are considered toss-ups. -- By Ros Krasny
Barbed Wire Can Be a Beautiful Sight (3:14 p.m.)
"I noticed all that beautiful barbed wire going up today," Trump said during his Montana rally. "Barbed wire used properly can be a beautiful sight." Some of the thousands of active-duty military arriving in Texas on Trump's orders are installing concertina wire, a type of barbed wire, on and near the U.S.-Mexican border, including along the banks of the Rio Grande River. An Air Force official said this week that soldiers will harden the points of entry and address key gaps, and that some 170 miles worth of such wire are available now or will be soon.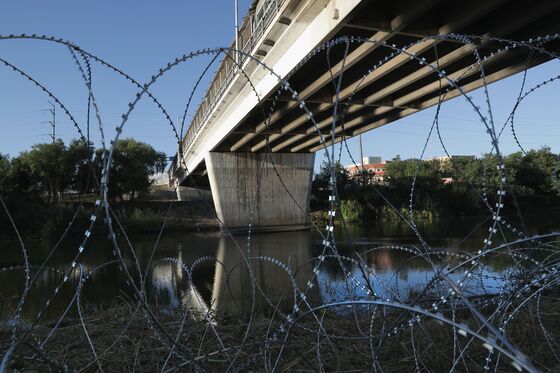 A Focus on Kavanaugh, Caravan and Coal (2:52 p.m.)
Trump's stump speech in Montana focuses on some of the administration's top closing arguments: the rough confirmation battle for Supreme Court Justice Brett Kavanaugh, and the caravan of Central American migrants traveling north toward the U.S.-Mexican border. There's an extended shout-out to "nice, beautiful, clean coal" (Montana is the number six U.S. coal state, but its neighbor Wyoming is number one).
The president kicked off his appearance with a summary of current low unemployment numbers and strong growth, making the connection between economic conditions and the 2017 tax cuts and other Republican policies. -- Shannon Pettypiece
Trump Tweets on Crowd Size, Tweaks Obama (2:40 p.m.)
The president has landed in Montana and retweeted a photo from an NBC producer of long lines to get into the Belgrade rally. "At least everybody admits that my lines and crowds are far bigger than Barack Obama's..." The White House has been sending crowd sizes for rallies this weekend. At last night's Indianapolis event the crowd was 4,000. -- Shannon Pettypiece