Pound Will Hit $1.40 on Brexit Deal, $45 Billion Fund Says
(Bloomberg) -- Merian Global Investors is buying the pound on bets the U.K. will reach a successful divorce agreement with the European Union.
As Brexit negotiators work through the night to reach a deal, the head of fixed income at the $45 billion London-based fund is adding to his long sterling positions, a currency he says is oversold. He is also shorting U.K. government bonds on expectations yields will climb after an agreement is secured.
"We do think it can probably get to an initial relief trade around $1.40," Mark Nash of Merian Global, said in an interview during a visit to Singapore. "The pound is undervalued now because of the Brexit risk."
Nash isn't alone in calling for a sterling recovery. Aberdeen Standard Investments is expecting a rally to $1.50 while Allianz Global Investors has turned long after having been consistently short on the currency since the 2016 referendum. The pound has lost almost 5 percent this year as investors fretted over Britain's inability to secure a clear exit plan.
The U.K. currency slid more than 1 percent Monday to $1.2828 amid speculation Prime Minister Theresa May could face defeat in Parliament if she pushes ahead with her Brexit plan. The final stage of the talks is proving "immensely difficult," May said on Monday.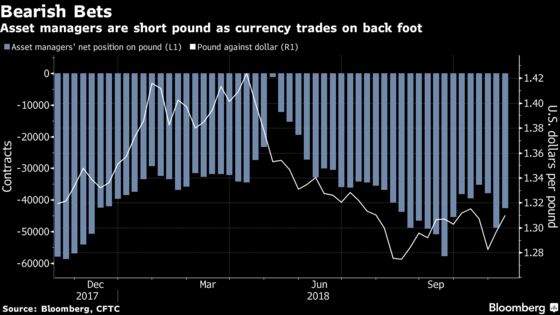 "If we get some resolution to these political issues, we are going to see gilts sell off," London-based Nash said. "We do expect at least two interest-rate hikes next year after we get a Brexit deal, potentially another one in quick succession. So naturally that'll push up U.K. gilt yields.''
Overnight-index swaps indicate the Bank of England will raise its benchmark rate just once by end of 2019. Nash expects a faster pace of tightening and expects gilts to come under pressure following Britain's clean break from the EU. He is shorting 10-year bond futures and paying longer-maturity swaps to position for a steeper U.K. rate curve.
Treasuries, Emerging Markets
Below are more comments from Nash on the U.S. and emerging markets:
U.S. equities will continue to fall a bit more from here and credit spreads will begin to widen. Markets will start to reflect a more negative backdrop in the U.S. and Federal Reserve tightening
There is value at the front end of the Treasury curve. Fund is shorting the longer-dated Treasuries and buying front-end of the curve including five-year Treasuries
One of Merian's strongest views is a steeper U.S. curve. Global liquidity is being withdrawn, and the Fed has probably got enough priced into the front end of the Treasury curve
Fund is starting to add to emerging markets assets based on its view on the Fed and has bought local currency government bonds in Indonesia and Brazil