Hong Kong's Leader Opposes U.S. Bill as Protesters Appeal to Trump
(Bloomberg) -- Hong Kong leader Carrie Lam pushed back against protester calls for the passage of U.S. legislation that would require annual assessments of the city's special trading status and allow sanctions on Chinese officials.
"The Hong Kong government doesn't agree on foreign parliaments passing bills to intervene in Hong Hong affairs, and we feel deep regret," Lam told a regular news briefing Tuesday before a meeting of the city's Executive Council. She called any such foreign action "extremely inappropriate."
Tens of thousands of protesters marched to the U.S.'s Hong Kong consulate Sunday in an appeal for support from President Donald Trump, many waving American flags. The Hong Kong Human Rights and Democracy Act, backed by House Speaker Nancy Pelosi and other prominent U.S. lawmakers, calls for annual assessments on whether the former British colony is sufficiently autonomous from Beijing to continue its special trading status.
"I hope local people with certain standing would stop actively requesting the U.S. Congress to pass the Hong Kong Human Rights and Democracy Act," Lam said. A U.S. government report said earlier this year that the city's autonomy was "sufficient -- although diminished."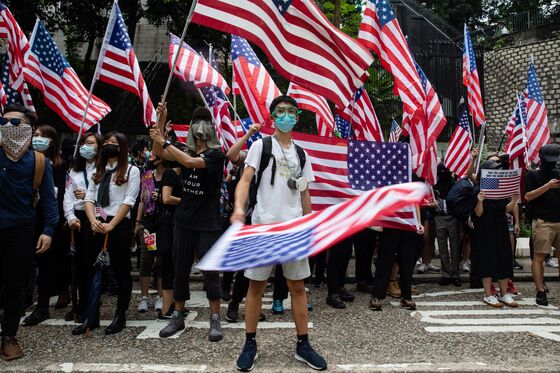 Violence flared again last weekend despite Lam's biggest concession to protesters in more than three months of pro-democracy demonstrations. The chief executive also pleaded for protesters to avoid damaging public facilities, saying the violence risked driving the Asian financial hub further apart.
Lam's popularity rating rebounded slightly from a record low in a poll partly conducted after her Sept. 4 announcement that she would withdraw controversial legislation that would've allowed extraditions to China, and which first sparked protests in June. Her popularity rating rose to 25.4 out of 100 points in the latest survey conducted by the Hong Kong Public Opinion Program between Sept. 2 and 4, up from from 24.6 in a similar poll in late August. Nineteen percent of respondents expressed confidence in their leader, up slightly from 17% late last month.
Small crowds set fires and vandalized subway stations on Sunday following their peaceful march. Riot police retaliated by clearing roads and subway stations and firing tear gas in the bustling shopping district of Causeway Bay.
The weekend unrest signaled that protests against Beijing's increasing grip over Hong Kong showed no sign of stopping. The city's economy is taking a hit, with visitor arrivals plunging nearly 40% in August from the same period last year and occupancy rates of hotels in some areas falling by more than half.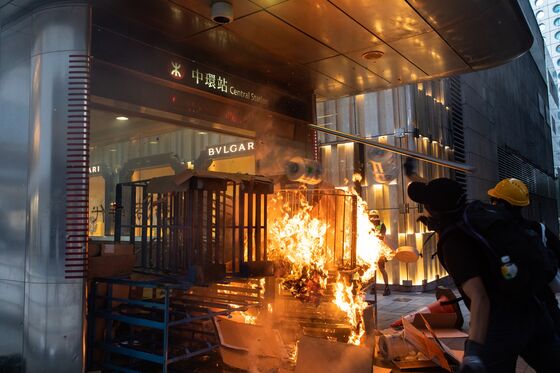 Damage to subway stations "exceeds far beyond the anti-extradition bill and protest demands," Lam said. "The escalation and continued violence cannot solve the current problems faced by society, and would cause societal conflicts, rift and even hatred to deepen, making our work to resume order and mend rifts more difficult."