Safaricom Kenya CEO Collymore Dies After Battle With Cancer
(Bloomberg) -- Safaricom Plc Chief Executive Officer Bob Collymore, whose push into mobile payments spurred a five-fold increase in the Kenyan company's value, died after a battle with cancer. He was 61.
Collymore received treatment for leukemia in the U.K in 2017 and 2018. His condition worsened in recent weeks and he died at home in the early hours of Monday, Chairman Nicholas Nganga said in an emailed statement.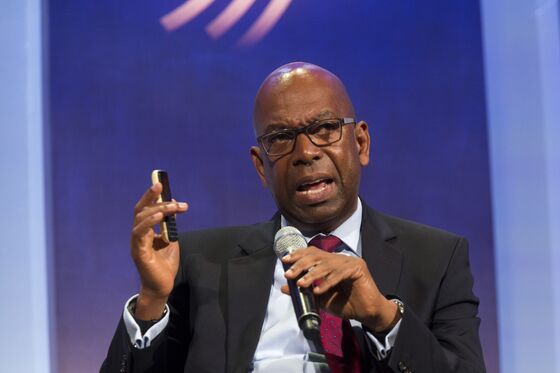 Safaricom's mobile-phone payments platform M-Pesa has allowed millions of Kenyans who were excluded from the banking system to purchase everything from groceries to air tickets and goods on platforms such as Alibaba Group Holding Ltd.'s AliExpress. Since Collymore took charge in late 2010, Safaricom's subscriber base has doubled and its profits have quadrupled.
Kenya's President Uhuru Kenyatta said: "Although Bob Collymore has left us, his inspirational life will remain a great legacy, not just to Kenyans, but also to the whole world."
Safaricom's board agreed in May to extend Collymore's contract by a year to August 2020 because he owed the company the time he took as medical leave. Since then, East Africa's most profitable company has been searching for a successor.
Chief Finance Officer Sateesh Kamath may be named acting CEO, according to Tracy Kivunyu, telecommunications analyst at Tellimer Inc., who said: "We don't expect any significant strategy changes during the transition period."
Safaricom shares were down 0.4 percent by 12:33 a.m. in Nairobi.
M-Pesa signed partnership agreements with all of Kenya's 40 operating commercial banks and is now doing the same with credit unions in an attempt to triple its mobile banking customer base in two years.
Safaricom has come to control around two-thirds of the Kenyan telecom market and for a while was at risk of being broken up. That risk subsided in February when Bharti Airtel Ltd.'s Kenyan unit agreed to combine operations with Telkom Kenya Ltd. to rival Safaricom as the nation's second-largest telecom operator.
Vodacom Group Ltd. of South Africa owns just under 40 percent of Safaricom, while the Kenyan government holds 35 percent.
Collymore was previously Vodacom's chief officer of corporate affairs. He was born in Guyana and lived at first with his grandparents before moving to join his mother in the U.K. when he was a teenager. He is survived by a wife and four children.