Democrats' Favorite Fundraising Tool Hauls in Record Donations
(Bloomberg) -- ActBlue, the online fundraising platform for Democrats, recorded its highest number of donations Sunday as contributors poured $12 million into campaigns and progressive organizations on the last day of the second quarter.
The 390,000 donations topped the platform's previous one-day record of 306,000, while the $12 million contributed on June 30 was the second-highest dollar total since ActBlue's founding in 2004, the group said.
The surge of donations comes as the party's 24 presidential candidates hustled for funds ahead of the second-quarter deadline, emailing last-minute appeals to supporters in hopes of notching a big number to stand out from the pack. It also shows that grassroots supporters of the Democratic party are still politically engaged after a record-setting midterm election cycle.
ActBlue didn't say how much of the last-minute donations went to presidential candidates. The platform also raises money for members of Congress, party committees and PACs, state and local campaigns and nonprofits.
Federal candidates, including those running for president, report their second quarter numbers to the Federal Election Commission on July 15.
Some presidential hopefuls announce their totals early. The campaign of Pete Buttigieg, the mayor of South Bend, Indiana, already announced his second quarter fundraising total of $24.8 million earlier Monday. That was more than three times the $7 million he raised in the first quarter, which ranked him fourth among the candidates active in that quarter, behind Vermont Senator Bernie Sanders, who raised $18.2 million; California Senator Kamala Harris with $12 million and former Texas congressman Beto O'Rourke, who raised $9.4 million.
Former Vice President Joe Biden, who didn't enter the race until the last week of April, will be reporting fundraising numbers for the first time July 15. His campaign, which announced that it raised $6.3 million on its first day, emailed supporters Sunday night asking for donations that stressed the importance of reporting a big number. "EVERYONE (especially Trump) will use it to judge the strength of our campaign," the email said.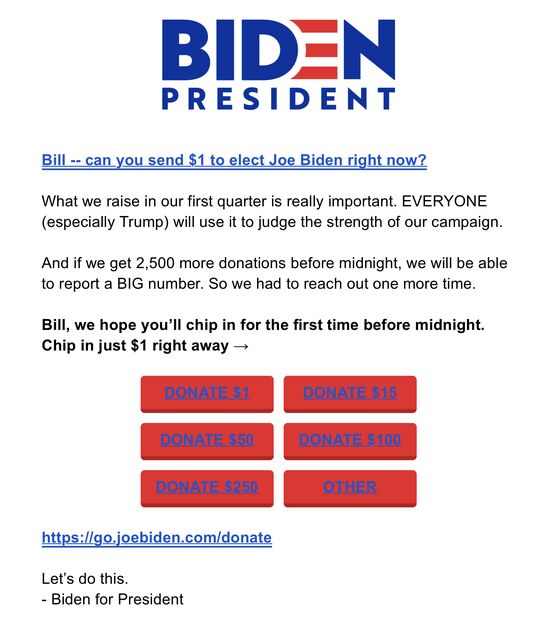 In a follow-up email sent Monday, Biden told supporters, "We blew our fundraising goal out of the water," and said the campaign would be releasing numbers soon.
Other candidates stressed the approaching deadline in emails sent on Sunday and, like Biden, included links to their ActBlue fundraising pages. The last-minute email sent by the campaign of Minnesota Senator Amy Klobuchar said that she'd stayed up past midnight the previous night calling and emailing donors.
Donors used ActBlue to contribute $100 million in June, a number reached previously in August, September and October of 2018, when small-dollar donors helped propel the blue wave that elected a Democratic majority in the House of Representatives for the first time since 2008. The online platform has raised $3.6 billion for Democratic candidates and causes since 2004, including $1.3 billion in the 2018 midterm elections.
Republicans launched their own version of ActBlue, called WinRed, last week. In a tweet announcing it, and linking to a donation page for a joint fundraising committee that supports his campaign and the Republican National Committee, President Donald Trump called its creation a priority that will allow the GOP to compete with "the Democrats money machine.