May Runs Out of Road, So Who Owns Brexit Now?
For almost three years, Theresa May has clung to power with grim determination, fighting to complete her defining mission and deliver Brexit.

Britain's ruling Conservative Party finally ran out of patience yesterday. In a tense and emotional meeting inside May's wood-paneled Westminster offices, the party's grandees delivered their blunt message to the prime minister: it's time to go. The question is who – and what – comes now.
May was forced to promise a timetable for stepping down, and to formally start a contest to pick her successor as party leader (and thus prime minister), after she tries one last time in June to get lawmakers to endorse her Brexit plan. Today, her attempt to strike a cross-party deal on Brexit finally broke down, compounding her predicament.
Boris Johnson, the colorful former foreign minister who quit in protest at May's handling of talks to leave the European Union, announced that he will stand. Others are waiting in the wings.

Johnson's strongly pro-Brexit stance makes him the current favorite in what will be an unpredictable and over-crowded race. But would he find delivering Brexit any easier? Unless he triggers and wins a general election, or a second referendum on the EU divorce, he will have no mandate or means to get any deal through Britain's deadlocked Parliament.

In the end, that's what destroyed Theresa May. Whoever replaces her, Britain faces yet more political turbulence ahead.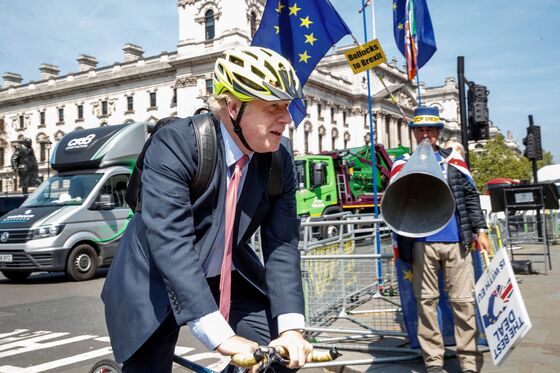 Battle lines | President Donald Trump, who was elected after promising to end U.S. involvement in Middle East conflicts, is wary of drawing the U.S. into a war with Iran, concerned it would imperil his bid for a second term, Jennifer Jacobs and Margaret Talev report. At the same time, he is under pressure from his base to show the U.S. won't be pushed around, and members of his national security team have issued increasingly bellicose warnings to Tehran.
Trade stalemate | Chinese state media has signaled a lack of interest in resuming trade talks with the U.S. without new moves that show Washington is sincere. That's after the Trump administration said restrictions on Huawei will take effect today, placing China's largest technology company and scores of its affiliates around the world on a blacklist that curtails its access to critical U.S. suppliers.
Click here for more on a U.S. directive targeting European and Japanese carmakers.
Blocking move | Ukraine's ruling coalition collapsed today after the People's Front quit, effectively blocking President-elect Volodymyr Zelenskiy from calling early elections. Zelenskiy, a comedian whose new political movement is not part of the government, tapped into widespread public anger at government corruption to score a landslide victory over Petro Poroshenko last month. He had pledged to consider dissolving parliament and hold a snap election.
Risky business | Whoever wins Australia's election tomorrow will be handed a formidable challenge: keeping an economy that's just chalked up the longest expansion on record from running out of gas. Should it be a Labor victory – as polls suggest – it will be a familiar story for the party, which almost always returns to power when times are tough. For now both Labor and the ruling Liberal/National Coalition are seeking to convince voters that nearly 28 years of unbroken growth will continue under their stewardship. For more on the election, see here and here.
Domestic troubles | The Kremlin is struggling to defuse unrest in Russia's provincial heartlands, normally the bedrock of President Vladimir Putin's support. Nightly protests this week in Yekaterinburg, Russia's fourth-largest city, over plans for a new cathedral are the latest example of spreading discontent amid rising economic hardship. Putin yesterday intervened, urging local officials to conduct a poll of residents' views.
After weeks of heated rhetoric, an outbreak of violence has marred the final stage of India's election as supporters of rival political parties clashed on the streets of Kolkata. Exit polls are due Sunday and the final count on May 23.
U.S. Democratic presidential contenders are attempting to galvanize outrage at the enactment of an Alabama law that makes performing an abortion a felony in almost all cases to turn the Supreme Court into a 2020 campaign issue, Sahil Kapur reports.
And finally…Taiwan became the first place in Asia to legalize gay marriage after a landmark vote in parliament cheered on by tens of thousands of supporters outside. But the move carries risks for President Tsai Ing-wen, who's Democratic Progressive Party forced through the legislation over opposition from older and more conservative voters. More than 72% favored keeping restrictions on marriage rights to heterosexual couples in a November referendum.