Polish Cabinet Fights Back as Church Abuse Film Dominates Campaign
(Bloomberg) -- Poland's government is mounting a counter-offensive after a documentary about pedophilia in the Catholic Church, an institution with close ties to the ruling party, threatens to dominate the last days of campaigning before European Parliament elections.
Prime Minister Mateusz Morawiecki vowed Tuesday to raise prison terms for pedophilia to 30 years. Running neck and neck with the opposition and seeking to regain the political narrative, the ruling party also finalized a report it hopes will pave the way for wartime reparations from Germany.
Meanwhile, prosecutors announced they want an 18-month jail term for a senior adviser to Donald Tusk -- their biggest political foe -- for his role in handling of the 2010 government flight that crashed in Smolensk, Russia, killing all 96 people on board.
The moves highlight concern about fallout from "Tell No One," a documentary depicting bishops covering up the cases of pedophilia among clergy that gained more than 10 million clicks since it was published four days ago. The film is especially dangerous for Law & Justice because of the party's vehement support for the church, with chairman Jaroslaw Kaczynski warning his compatriots this month that "whoever raises his hand against the church, raises his hand against Poland."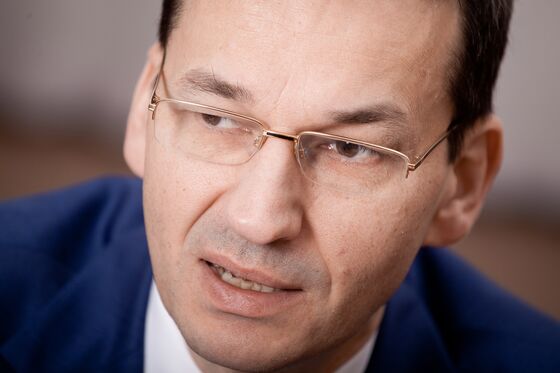 Morawiecki said the pedophilia legislation has been in the works for months and stressed that it's not aimed at any particular group of people. "Pedophilia must be stigmatized," he said. "We've been too tolerant."
The ruling party, accused by the European Union of eroding the rule of law with its judicial reforms, has increased the role of the church in education during its nearly four years in power, while attempting to tighten one of the bloc's strictest abortion bans. It also cast gay rights activists as opponents of traditional Catholic values.
Human-rights activists last week slammed the party after a woman was detained who had images of an icon of the Virgin Mary with a rainbow-colored halo resembling the symbol of the LGBT community. Police raided the home of Elzbieta Podlesna shortly after 6 a.m. and questioned her for several hours, saying the images -- similar to ones put up across her town last month -- may break a law on offending religious beliefs.
Law & Justice said the documentary, which gained money by crowd funding after the success of a fictional film about child abuse in Poland's Catholic church, is being used by the opposition to influence the election campaign.