Philippine Vote Positions Duterte's Daughter as Likely Successor
(Bloomberg) -- With the Philippines' midterm elections expected to heavily favor President Rodrigo Duterte and his allies, the stage is set for his daughter Sara to seek the top post in 2022.
Davao City Mayor Sara Duterte -- the president's eldest daughter -- has in recent years positioned herself as the next in line for the presidency, with the midterms serving as an opportunity for her to line up support within the ruling PDP–Laban party. Rather than running as a senator, she stepped into the national spotlight by personally campaigning for senatorial candidates competing for the 12 available seats. Nine of those she backed are leading in the early count.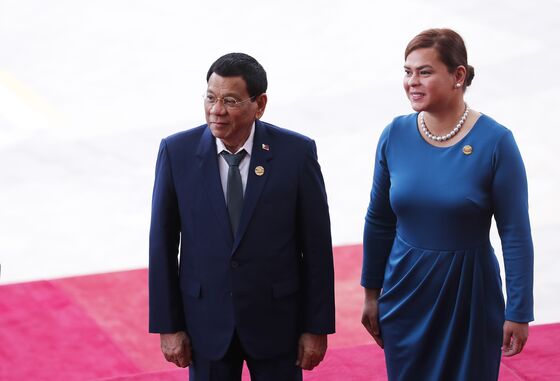 "Duterte is grooming his daughter to be his successor," said Michael Kugelman, deputy director of the Asia Program at the Wilson Center in Washington. "If the elections go the way he wants, that would put his supporters in a stronger position when it comes to the next presidential elections."
Such a convincing win will pave the way for Duterte to continue his controversial style of governing that's seen thousands killed in his deadly anti-drug campaign and opposition politicians and journalists relentlessly attacked. With his daughter being groomed as his successor, there is no reason for him to soften his style, although during her time as mayor she has proven to be a more moderate leader than her father.
Along with extending Duterte's hard-line legacy, Sara's ascendancy would offer security for a strongman leader who may find himself wading through legal troubles after his term expires, said University of the Philippines professor Gene Pilapil.
"The true winner of this election is Sara Duterte," Pilapil said." If 2019 is the dry run for 2022, it shows us that this is a Sara ballgame."
Sara will get to keep her seat as mayor of her hometown after a landslide victory there. If elected in 2022, she would be the Southeast Asian country's third female president in 27 years.
Duterte has repeatedly dissuaded his daughter in seeking the nation's top post, asserting that it would be better for her personally to stay on as mayor. "I am publicly warning her: the presidency will not educate you. It will just destroy you," the Philippine leader said at a media interview on Monday.
Nine of Duterte's favored politicians are among leading senatorial candidates, based on ABS-CBN data at 8:12 a.m. local time with 93.6% of the votes reporting. The likely winners of the 12 Senate seats include his former aide Bong Go and Ronald dela Rosa, the police chief who oversaw Duterte's war on drugs.
Following such a resounding win, Duterte will be free to spend the next three years of his term pursuing an aggressive agenda that would limit the scope of the senate by federalizing the government.
A proposed tax overhaul, meanwhile, would see cuts for large corporations in a bid to attract more investment to stimulate an otherwise lackluster economy.
Since taking office in 2016, Duterte -- like most regional strongmen -- has harnessed growing geopolitical tensions to move closer to China, signing billions of dollars worth of investment projects. Observers say they expect more of the same in the final years of his administration.
"There is the need for better infrastructure. He's addressed that by emphatically reaching out to China and that plays well," said Kugelman. "He plays a good game addressing economic challenges."
The midterm vote also bodes well for two female senators: independent candidate Grace Poe, and Duterte ally Cynthia Villar. Poe, who lost to Duterte in the 2016 presidential elections, will likely run again in the 2022 after finishing as one of the top contenders in the Senate race. If she is going to win however, she is going to need a new strategy, said Aries Arugay, a professor from the University of the Philippines.
"Her problem is: what will she do differently in 2022? It seems like she's not doing anything new and innovative. She's not building a network. She's just retaining her style of being a one-woman team," Arugay said.
Villar, wife of tycoon Manuel Villar, is also an option, though a less likely one. "The Villar family enjoys a strong relationship with Duterte after they helped fund his presidential bid, and they will not want to upset that," Pilapil said
For the opposition, whose candidates are trailing in the Senate race based on early results, liberal Vice President Leni Robredo could also stand for the top spot.
"Our fight doesn't end with the elections. We have to decide how we will continue standing up against things we don't think are right," she told media yesterday after casting her vote.