Deadly Attack on Sudan Sit-In Puts Transition Deal in Doubt
(Bloomberg) -- At least six people were killed when militiamen attacked a long-running sit-in outside Sudanese army headquarters, throwing into doubt a fresh deal between the opposition and ruling military on how to divide power in the aftermath of President Omar al-Bashir's ouster.
Gunfire rocked the protest site overnight in Khartoum, with the Central Committee of Sudanese Doctors reporting the death toll and use of live ammunition. The worst sustained violence in the capital since Bashir's April 11 overthrow, it came hours after an apparent breakthrough in agreeing on a structure and system of governance for a new transitional authority.
"There are plenty of violent specialists with a pedigree in terror who will seek to ruin any meaningful democratization of Sudan," said Harry Verhoeven, author of 'Water, Civilization and Power in Sudan.' "The surprise is, in any sense, that this did not come earlier."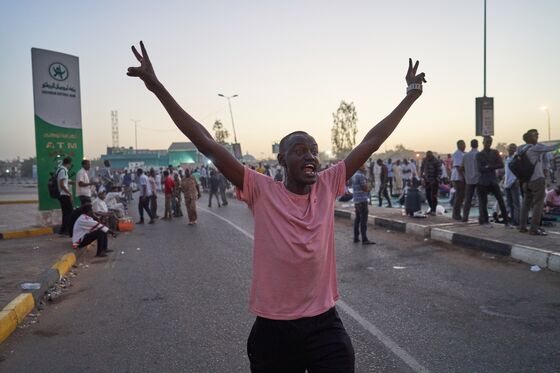 The bloodshed ratchets up tensions in Africa's third-largest country, where many in the opposition consider the military council an extension of Bashir's three-decade regime and have demanded it immediately cede power to civilians. The two sides were due to meet again Tuesday to discuss the length of the transitional period and how many civilian and military figures will make up a new council.
'Counter-Revolutionary Forces'
The doctors' committee accused "counter-revolutionary forces" of the attack, and many of the assailants wore uniforms of the Rapid Support Forces, a paramilitary unit commanded by the deputy leader of Sudan's military council. A Bloomberg reporter counted at least 50 injured people at the field hospitals at the camp, which was first set up on April 6.
An army official accused infiltrators in the protests of provoking the military and RSF, and said one officer was killed and 12 other soldiers injured in gunfire coming from the demonstrators' side. Opposition groups subsequently urged more people to join the sit-in and "defend the revolution."
Unrest that began in Sudan over soaring living costs in mid-December has left more than 90 people dead, according to the opposition. The country's public prosecutor said Monday that Bashir, 75, had been charged in connection with the deaths of protesters in the first four months of the uprising.