Lithuanian Cabinet Doomed as Premier Loses Presidential Vote
(Bloomberg) -- Lithuania's prime minister said he'd quit and possibly scrap his minority government after he was knocked out of the euro-area member's presidential election.
In a result that shook the Baltic state's political landscape, a crisis-era finance minister and the former chief economist of SEB Bank AB will compete in a May 26 runoff. If the cabinet collapses, it will most likely be replaced by a technocrat government that would lead the Baltic NATO nation until a scheduled vote next year.
The finalists fended off attacks from Premier Saulius Skvernelis, who tried to cast blame on his rivals and the central bank for the second-highest economic inequality in the European Union. A former policeman who runs the bloc's only all-male cabinet, Skvernelis made the election a referendum on policies that included pension hikes and child subsidies.
Governments in Lithuania traditionally give up powers and need reappointment after a new president is sworn in, and that deadline for Skvernelis's government is July 12. While he said he won't return as prime minister, the future for the rest of his cabinet remains unclear.
"There's still many options," Skvernelis said. "Those options include my own resignation, giving up powers, or an interim government -- this will also depend on the next head of state. Political parties will have talks and negotiations. Let's not rush events. Everything will be O.K."
Ingrida Simonyte, who ran the Finance Ministry when the global financial crisis hammered the Baltic state's economy a decade ago, beat former SEB Bank Chief Economist Gitanas Nauseda by a razor-thin margin. She had 31.15% of votes compared to Nauseda's 30.95%, a difference of fewer than 3,000 votes, according to the Electoral Commission.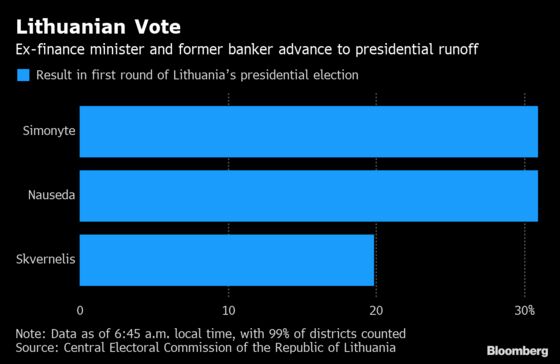 The winner will replace two-term incumbent Dalia Grybauskaite, a karate black-belt who is one of ex-communist Europe's staunchest critics of Russian President Vladimir Putin. Both contenders for the presidency have pledged to maintain her stance on sanctions imposed on Russia.
Lithuania's president has limited powers over domestic issues but can appoint judges and other officials and grants government-forming mandates after elections. The candidates also pledged to use the position's moral authority to influence government policy.
The prime minister had rekindled the debate about the 2008 economic crisis. He particularly targeted Simonyte, who pushed through EU-endorsed wage and pension cuts as a recession wiped more than 15% off of the economy and some international economists suggested the country would be better off ditching the euro.
But his ruling Peasants and Greens party also faced scandals and setbacks, including dismissed ministers, a teachers' strike, and backlash over rules raising the drinking age, banning alcohol advertising and restricting sales that many of the country's 2.8 million people opposed. Critics said measures meant to raise living standards didn't go far enough.
If Skvernelis steps down as expected, the most likely scenario is an interim technocrat government that would continue until a general election in the fall of 2020, said Margarita Seselgyte, a political analyst at Vilnius University.
"Early elections are unlikely, as well as a minority government run by the opposition," she said. "But it's too early to dot the 'i,' because the ruling party will be split and may want to remain in power."