Salvini's Tough Week at the Office Raises Concerns on Italy
(Bloomberg) -- After suffering his worst week since entering government as part of an unlikely populist coalition, Deputy Prime Minister Matteo Salvini is fueling concern about what he'll do next.
Prime Minister Giuseppe Conte suspects Salvini may be plotting to topple the government, Corriere della Sera reported Sunday. And four-time Premier Silvio Berlusconi, a potential partner if Salvini wants a more conventional center-right government, is stirring things up too, calling for new elections and telling La Stampa Salvini's been "humiliated" in his bid to hold the coalition together.
Fiery anti-immigration rhetoric and a savvy campaigning style have made Salvini, the leader of the League party, the dominant player in the government. His support has surged since he took office in June.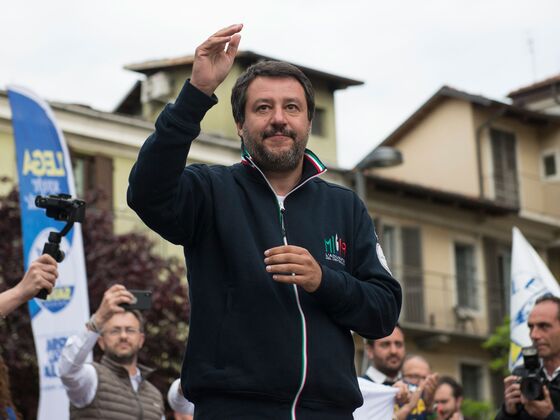 On Sunday, Five Star won two local runoff elections in Sicily while the League saw its candidate and another it backed lose out in two other runoffs in the region.
All of this is taking place as the country's economy continues to deteriorate, which may prevent Salvini and his partner and political rival, Luigi Di Maio of the Five Star Movement, from delivering on costly election promises. The European Commission warned Tuesday that Italy's fiscal position will continue eroding this year and next.
What Bloomberg's Economists Say
"The European Commission released fresh economic forecasts last week. It thinks the Italian economy has eliminated its output gap. We disagree and see a slew of reasons to believe the country has a lot more spare capacity than economists in Brussels say."
--David Powell (Economist), Maeva Cousin (Economist) and Dan Hanson (Economist)
Click here to view the research
Tensions between the ruling parties may resurface at a cabinet meeting next week, the last one before European parliamentary elections May 26, Corriere reported separately on Monday. Di Maio and Salvini are set to highlight their very different legislative priorities during the meeting in a sign of increasing divisions, the newspaper said.
In a bid to regain the initiative, Salvini has tried to put immigration back at the top of the agenda, launching a power grab for control over shipping in Italian waters. That would give his interior ministry more scope to stop migrant rescue ships approaching Italian ports.
Conte fears that would be a "landmine," handing Salvini an excuse to end the populist coalition within weeks, Corriere reported, citing unidentified aides.
Di Maio, who's also a deputy premier, ripped the maritime plan as a "provocation." At the very least, it's a new front in an ongoing turf war: the transportation ministry, headed by a Five Star minister, is currently responsible for dealing with migrant vessels.
The two ruling parties have even found room to disagree over papal affairs, after a cardinal reportedly went rogue to restore power to hundreds of homeless people living in an unused state-owned building, sparking speculation of a pro-migrant push by the Vatican.
While Salvini attacked Cardinal Konrad Krajewski and demanded he personally handle the tenants' unpaid electricity bills, Di Maio pointedly defended Pope Francis from far right ' criticism of his views on migration.
Salvini did say on Monday that he wants to continue in government with Five Star -- but he told Radio 24 he wants to "do it without without receiving insults and criticism on daily basis" from his would-be allies.