Ex-Banker Set to Face Premier in Lithuanian Presidential Runoff
(Bloomberg) -- A former banker leads the early vote count in Lithuania's presidential election and looked set for a runoff against Prime Minister Saulius Skvernelis, who threatened to quit if he failed to advance to the final round.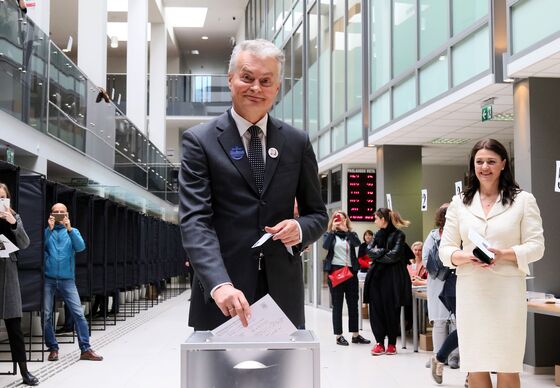 Gitanas Nauseda, who was once the chief economist of SEB Bank AB's unit in the Baltic nation, fended off efforts by Skvernelis to blame candidates like him for economic inequality that's the second-highest in the European Union.
Nauseda took 31% of Sunday's vote, with with 45% of districts counted, the Election Committee said on its website. Skvernelis had 27%.
"My team, my supporters and I have given all our strength," Nauseda said after voting ended. He said he would continue sending his message of "a different political culture," seeking to end bickering between the nation's economically conservative opposition and the ruling leftist Peasants and Greens Party "to get everyone around the table for talks."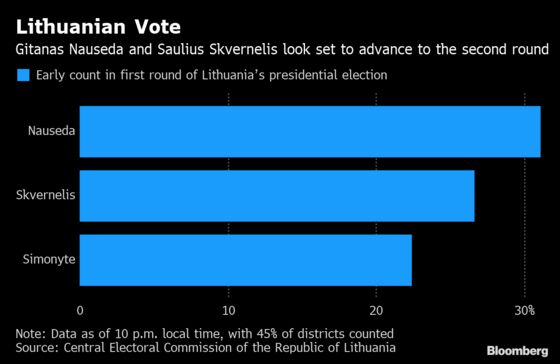 Ingrida Simonyte, who led the Finance Ministry when the global financial crisis hammered the country's economic output a decade ago, was an unexpected third after leading in opinion polls. She had 23% and looked set to miss the May 26 runoff.
Lithuania's president has limited powers over domestic issues but can appoint judges and other officials and grants government-forming mandates after elections. The candidates also pledged to use the position's moral authority to influence government policy. The winner will replace Dalia Grybauskaite, a staunch critic of neighboring Russia.
Nauseda, a 54-year-old independent who became a household name by appearing on everything from TV cooking shows to the nightly news, has faced attacks of being part of a finance establishment that was in charge of the country when the global crisis wiped 15% off of its economic output.
He's considered a second-round favorite because he has no government connections and has support among the prime minister's conservative opponents.
While the country is heralded as a model of economic integration since it joined the EU in 2004, many of its 2.8 million people are still feeling the effects of policies that included cuts to pensions and wages under austerity programs.
The prime minister has rekindled the debate about the crisis and instructed prosecutors to probe the actions of regulators and the central bank. A former policeman who runs the EU's only all-male cabinet, he's made the election a referendum on his policies, including tax cuts, pensions hikes and subsidies for families with children.
His government has also faced scandals and setbacks, including dismissed ministers, a teachers' strike, and the passage of rules raising the drinking age, banning alcohol advertising and restricting sales that many Lithuanians opposed.