Manafort Seeks to Avoid Long Prison Term in Virginia Case
(Bloomberg) -- Paul Manafort should serve far less time in prison than the 19 to 24 years that prosecutors say he faces for his fraud convictions in Virginia, according to his lawyers.
Lawyers for Donald Trump's former campaign chairman urged U.S. District Judge T.S. Ellis III to show leniency in sentencing him on March 7 for financial crimes, citing his declining health. They also said Special Counsel Robert Mueller miscalculated how much time Manafort faces under sentencing guidelines, applying the wrong legal standard.
Manafort, who'll be 70 on April 1, hopes to avoid an effective life term after jurors found him guilty on Aug. 21 of lying to tax authorities about tens of millions of dollars he earned as a political consultant in Ukraine and misleading banks about his financial health to get loans. Manafort will be sentenced separately on March 13 in Washington, where he pleaded guilty to conspiring to lobby illegally for Ukraine, to launder money to support a lavish lifestyle, and to tamper with witnesses.
"The special counsel's attempt to vilify Mr. Manafort as a lifelong and irredeemable felon is beyond the pale and grossly overstates the facts before this court," Manafort's lawyers wrote in a filing Friday in federal court in Alexandria, Virginia.
Ellis, who often sided with defense lawyers and criticized Mueller's prosecutors during Manafort's trial, must make a series of decisions on the severity of the crimes. Manafort's lawyers argued that Mueller has taken far too harsh a view of his conviction on five counts of filing false tax returns, two counts of bank fraud and one count of failing to file a foreign bank account report, or FBAR.
"The cases that special counsel have brought against Mr. Manafort have devastated him personally, professionally, and financially," the lawyers wrote. "The charges and associated publicity have brought intense, negative media coverage and scrutiny, have destroyed his career, and have resulted in financial hardship for Mr. Manafort and his family."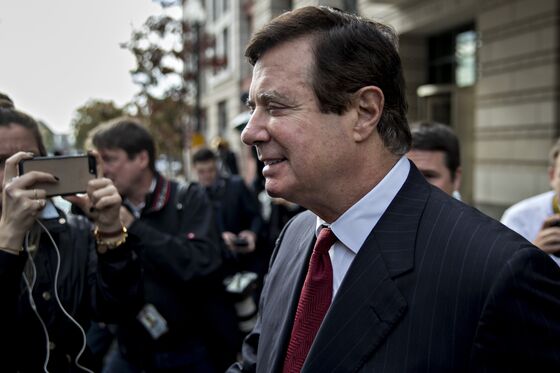 U.S. District Judge Amy Berman Jackson has taken a more severe view of Manafort than Ellis. She ordered him jailed on June 15 after he was indicted on a charge of conspiring with a former aide, Konstantin Kilimnik, to tamper with witnesses. Mueller's prosecutors say that Kilimnik, a translator, has ties to Russian intelligence.
After pleading guilty on Sept. 14, Manafort agreed to cooperate with Mueller's investigation of potential collusion between Trump's campaign and Russians who interfered with the 2016 election. But two months later, prosecutors said that Manafort breached his plea deal by repeatedly lying during a dozen debriefings that spanned more than 50 hours. Jackson agreed, saying Manafort lied in three areas, including about his communications with Kiliminik.
Prosecutors have investigated whether Manafort gave private polling data to Kilimnik during a meeting in New York in August 2016. They also examined if the men discussed a Ukrainian peace plan sought by Russia.
At a hearing last month, Manafort's lawyers argued that both Kilimnik and Manafort were in regular contact with U.S. State Department officials at the embassy in Kiev. At a Feb. 13 hearing in Washington, Downing said it was important that the allegation of Kilimnik's "known ties to Russian intelligence be countered, and be countered in a balanced manner," according to portions of a transcript unsealed this week.
In Friday's filing, Manafort's lawyers have cited how his health has deteriorated after he spent the last nine months in solitary confinement. Manafort has severe gout, high blood pressure, high cholesterol, psoriasis, arthritis and a potential thyroid problem. He also suffers from severe anxiety, panic attacks, and a constant feeling of claustrophobia, according to his lawyers.
The filing on Friday closely resembles one that Manafort's lawyers filed in Washington on Feb. 25. Like the Washington filing, the one in Alexandria was accompanied by a sheaf of letters of support from Manafort's wife of 40 years, Kathleen, family members and friends.
The case is U.S. v. Manafort, 18-cr-83, U.S. District Court, Eastern District of Virginia (Alexandria). The other case is U.S. v. Manafort, 17-cr-201, U.S. District Court, District of Columbia (Washington).