How Theresa May Still Might Pull It Off: This Is the New Brexit Math
(Bloomberg) -- With a month to go until Britain is due to leave the European Union, Theresa May is facing an apparently impossible task as she tries to get her Brexit deal approved by Parliament. Can the prime minister somehow defy the odds and deliver Brexit on time?
Negotiations are still ongoing in Brussels, with U.K. Attorney General Geoffrey Cox looking for a way around the problem of the contentious Irish backstop. May's spokesman said Thursday there was still "significant" work to do.
The big shift in February was May's concession of a vote on delaying Brexit from March 29 if there isn't a deal. As that vote is very likely to pass, the threat facing those who are resisting May's deal because it isn't a hard enough Brexit is that by holding out they might get no Brexit at all. Adding to that pressure is the opposition Labour Party's recent backing of a second referendum.
One Tory observed that May had got all the votes she was going to get from presenting people with a choice between deal and no-deal, and that there were lots to be squeezed from deal-or-no-Brexit. But another thought the agreement would be rejected again before Brexiteers finally backed down and accepted it.
A lot depends on whether Cox can negotiate enough to persuade doubtful MPs that Britain won't end up stuck in a customs union. He's seeking a codicil to the unpopular divorce deal -- skeptics are already describing it as "Cox's codpiece." But if he can get something plausible, here's a possible route to a parliamentary win for May, based on the calculations of lawmakers and ministers.
May was defeated the first time around by 432 votes to 202. To win, she needs 320 MPs on her side, two of whom aren't included in the tallies, because they count the votes. So she's 116 MPs short. Where to find them?
The Democratic Unionist Party: 10
Northern Ireland's DUP, who prop up May's minority government, are the key. Although they're tough negotiators, there are signs that they're willing to find common ground. They have talked about wanting "legally binding changes" to May's Withdrawal Agreement, a less hardline stance than many Conservatives. Nigel Dodds, leader of the DUP in Westminster, will be one of the group of lawyers assessing the changes that Cox negotiates. If he signs them off, then things look hopeful for May.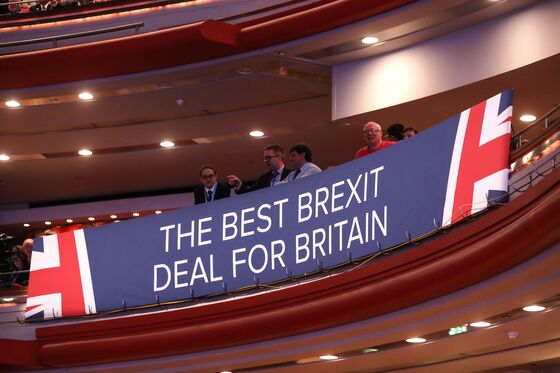 Those voting against May's deal last time included 118 Tories – more than a third of her party. But relatively few of these are hardline euroskeptics. Around 50 of the Conservative rebels are instinctive loyalists quite keen for an excuse to vote with the government. Beyond them, goes the theory, are at least 25 who can be persuaded that if the DUP are happy, they can back the deal.
May will never get every Tory: There are six who are opposed to any kind of Brexit at all, as well as die-hard euroskeptics. But one government minister, speaking privately, predicted the rebellion would shrink to 35. A cabinet minister pointed to the Feb. 27 euroskeptic rebellion against May's extension offer, which saw only 22 Tories take part, as a sign that this wing of the party was getting ready to compromise.
In January, May got the support of just three Labour MPs. But in a series of Brexit votes two weeks later, 14 backed the government, and eight more abstained. Party leader Jeremy Corbyn's reluctant move to support a second referendum could have the paradoxical effect of pushing Labour MPs who think this is a bad idea to vote for Brexit, so as to prevent a referendum. Corbyn is a lifelong euroskeptic and it would suit him if his MPs who represent pro-Brexit districts felt free to back the deal. There is, a member of the shadow cabinet observed privately, a strong desire both in Parliament and the country to get Brexit over with and talk about something else. But another disputed the idea that there could be as many as 40 rebels, saying the figure would be lower.
The new Independent Group of MPs that split from Labour and the Tories is determinedly anti-Brexit, but there are others who have left Labour who will vote for Brexit.
Yes. May needs a political miracle in which everything goes her way for the numbers above to work out for her. First, all this hangs on May winning the support of the DUP. Those who oppose her deal are well aware of this. They're likely to argue that whatever the prime minister wins in her renegotiation of the backstop is insufficient. Much could hang on the meaning of "legally binding," and Cox's powers of persuasion.
Second, Conservatives could prove more determinedly rebellious than expected. Many are under pressure from activists to vote against the deal.
Third, Labour whips could do their jobs better than expected, and reduce the pro-Brexit rebellion.
And If She Wins, Is That Everything Sorted?
Far from it. After this, May has around 50 more votes to win before the end of March if she wants to get all her Brexit legislation through without seeking an extension to the Brexit day deadline. But now that she's accepted the principle of a limited delay to departure, that deadline could be more flexible.