Somalia Ends Islamist-Militant Siege After Blasts Killed 25
(Bloomberg) -- Somali security forces killed all al-Qaeda-linked militants involved in a siege at a hotel in the capital, Mogadishu, a government minister said, after at least 25 people died in bombings on a major thoroughfare.
Al-Shabaab insurgents detonated an explosives-laden vehicle near the gate of the Maka Al Mukarram hotel on Thursday evening, Abdihafid Adan, a police officer who rushed to the scene, said by phone. He counted 18 bodies and said the toll could rise.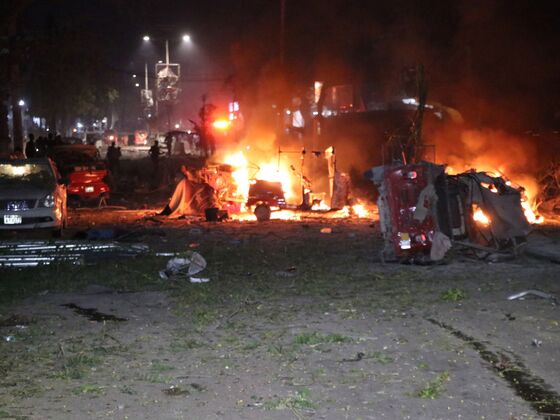 Seven people found with injuries have died, while another 25 wounded were admitted to a nearby hospital, according to Mohamed Ahmed, a paramedic who attended the scene. There was a second blast near a junction on the same road from a vehicle being chased by security forces, police said. Casualties from that attack are still unknown.
Security forces ended the siege Friday afternoon, "after they shot one-by-one all the attackers," Information Minister Dahir Mohamud Gelle told local media. Al-Shabaab claimed responsibility for the attack in a statement broadcast on Radio Andalus, which supports its insurgency.
The militants have waged an insurgency in the Horn of Africa nation since about 2006 in a bid to impose their version of Islamic law. While the group was driven out of Mogadishu in 2011 by Somali and African Union forces, it continues to carry out deadly gun and bomb attacks.