Democrats Demand Mueller Full Disclosure, Citing GOP's Precedent
(Bloomberg) -- House Republicans spent almost two years forcing the Justice Department to turn over internal documents about the investigation into Hillary Clinton. Now that Democrats control the House, they're ready to do the same thing to crack open Robert Mueller's probe.
Democrats plan to seize on the GOP's successes, including in obtaining extensive material related to the origins of the Russia probe, as precedent for full disclosure of Special Counsel Mueller's impending final report -- and the evidence behind it.
"Devin Nunes, Bob Goodlatte and Trey Gowdy spent a ton of time digging out investigatory material from the DOJ,"' said Representative Jim Himes of Connecticut, a Democrat on the Intelligence Committee, referring to Republican House chairmen who led a campaign to discredit the Russia probe that President Donald Trump routinely calls a "witch hunt."
For the Justice Department to turn around and withhold details of the Mueller probe from Congress and the public, Himes said, would be "hypocritical and inconsistent."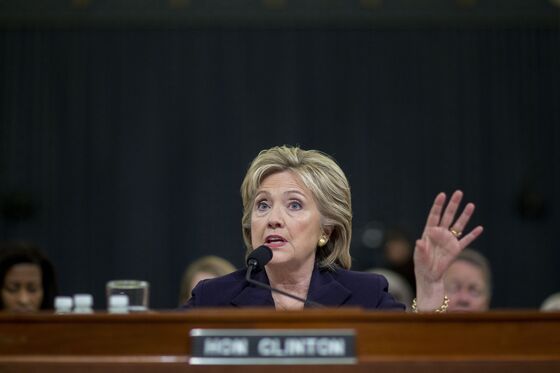 It's an urgent question because Mueller is almost done writing the report that will close his 21-month investigation. Attorney General William Barr has indicated he may send Congress only a synopsis that's sparse on details and might exclude any discussion of possible wrongdoing by the president.
So Himes and other Democrats are invoking the mountain of internal investigative materials that Republicans obtained -- often over Democrats' objections -- in their effort to expose what they portray as anti-Trump bias in the Justice Department and FBI. That effort was led by Nunes, who was chairman of the House Intelligence Committee through last year; Goodlatte, who ran the Judiciary panel; and Gowdy, was chaired the Oversight Committee.
Citing their responsibility to monitor whether federal agencies are complying with the law, they extracted and publicized FBI text messages, information on top-secret surveillance warrant applications and documents explaining why certain investigative steps were taken. Trump often chimed in, tweeting as recently as December, "All texts demanded!"
Nunes, the only member of the GOP trio still in Congress, said Thursday that he agrees with the Democrats demanding full disclosure of Mueller's work.
"I mean everything," he said in an interview. "Witness interviews, wiretaps. Everything."
Even as Michael Cohen, Trump's former lawyer and fixer, delivered damning testimony against the president on Wednesday before the House Oversight and Reform Committee, the panel's top Republican protested that Deputy Attorney General Rod Rosenstein should have been the witness so he could be pressed on inner workings of the Justice Department.
"Instead we get 30 minutes from a guy who is going to prison -- going to prison in two months for lying to Congress," Representative Jim Jordan of Ohio said.
The fight over Mueller's findings gained traction during Barr's Senate confirmation hearing. While Barr promised to provide as much transparency as possible, he said it's the attorney general's job to send Congress a summary of Mueller's findings.
And he cited an implicit argument against releasing any damaging information on Trump: Justice Department policies that say a sitting president can't be indicted and that prosecutors shouldn't make public comments on people who aren't charged.
"If you're not going to indict someone, then you don't stand up there and unload negative information about the person," Barr said.
Democrats vehemently disagree, saying they're prepared to press their case for fuller disclosure, including by subpoenaing Mueller's report, demanding that he testify and taking other legal action.
"Congress has a clear interest in obtaining the special counsel's full report, supporting materials and all the facts and evidence surrounding the numerous investigations into President Trump, his associates and his campaign," Senator Dianne Feinstein of California, the top Democrat on the Senate Judiciary Committee, said in a statement last month.
Even if Mueller's report is silent on the president, they say they'll demand documentation from his investigation to pursue their own probes based on Congress's ultimate power: impeaching and removing a president for wrongdoing.
House Intelligence Chairman Adam Schiff said he's pointed out to Rosenstein that "they turned over thousands and thousands of pages of discovery in the Clinton email investigation and there was no indictment in that investigation."
Schiff said in an interview on ABC's "This Week" on Sunday that they're "going to have to live by this precedent, whether it was a Congress controlled by the Democrats or Republicans."
Rosenstein and other Justice Department officials don't concede they've set a precedent that will apply to Mueller's findings. Contending that such questions must be handled on a case-by-case basis, they say sensitive material about the investigation into Clinton's use of a private email server when she was secretary of state was released only after then-FBI Director James Comey made the widely criticized decision to discuss that probe publicly.
"One of the challenging issues we face in the department -- and this is an issue that we'll be discussing nationally -- is the question of whether transparency is a good thing," Rosenstein said in an appearance Monday at the Center for Strategic and International Studies in Washington. "Just because the government collects information doesn't mean that information is accurate. It can be really misleading if you're overly transparent about information that the government collects."
Efforts to enforce a subpoena against an administration official would also come up against executive privilege claims that an attorney general would back.
Representative Chris Stewart of Utah, a Republican member of the House Intelligence Committee, said it's Democrats who are being inconsistent because they were "accusing those of us of who wanted to be more open of revealing deeply classified information and endangering national security -- which of course we weren't."
Stewart said he agrees a precedent has been set, and he's on the side of those who argue that Barr should make the Mueller report as public as possible.
"If there is any part that is redacted, someone is going to point to that and say, 'See, there's the collusion, there's the conspiracy -- it's there, and they just don't want to tell it,'" he said.