Brussels Edition: Pricing the Slowdown
(Bloomberg) -- Welcome to the Brussels Edition, Bloomberg's daily briefing on what matters most in the heart of the European Union.
Inflation data for the euro area may offer little cheer for European Central Bank policy makers, who are already dealing with a slowdown that could delay policy tightening or even prompt a fresh injection of stimulus. While the headline inflation rate may have ticked up to 1.5 percent in February, the underlying picture is one of subdued price pressures. Today's release comes less than a week before the ECB's Governing Council gathers to assess the outlook after Italy slipped into recession and Germany narrowly avoided the same fate.
Saudi Blacklisting | Intense lobbying worked: We're told an "overwhelming majority" of EU governments rejected a European Commission proposal to blacklist Saudi Arabia and several U.S. jurisdictions for weak safeguards against money laundering and terrorist financing. Financial services officials representing EU governments meet in Brussels to discuss what to do next.
Telco Gathering | Huawei is likely to come up in discussions when European tech and telecoms ministers gather in Bucharest today to discuss the bloc's digital strategy and cyber-security issues. EU governments are considering whether they should heed U.S. warnings and ban the Chinese company from providing network gear.
Competition Tour | Competition Commissioner Margrethe Vestager goes to Poland today, a day after meeting Angela Merkel, who wants to stop the EU blocking big business deals. Poland was one of 17 countries this week asking the blocs to strengthen the single market. Germany didn't sign the letter, showing tension between Europe's bigger and smaller states on how to handle more government intervention.
Estonia Votes | Estonia's ruling Center Party is in a tight race with the opposition Reform Party in Sunday's parliamentary elections. The two of them are also trying to hold back the populist EKRE party, which is trying to capitalize on one of Europe's largest money-laundering scandals.
ECB Loans | The European Central Bank will keep banks waiting for a decision on whether the euro-area slowdown is bad enough to warrant action — before concluding that some form of its long-term loans should be revived, economists in a Bloomberg survey predicted.
German Splurge | Germany is finally warming to the idea of loosening its purse strings. Finance Minister Olaf Scholz has set aside more than 150 billion euros for infrastructure, education, housing and digital technology over the next four years, while also putting more money in consumers' pockets. 
How Long? | Chief EU Brexit negotiator Michel Barnier said a delay to Brexit is possible, but the EU will need to know what it's for. He drew a distinction between a "technical extension" put in place to avoid a no-deal scenario, and a longer one, which would have to serve a purpose, he said. Austrian Chancellor Sebastian Kurz, however, has a different view: Brexit should be done before the EU elections otherwise it would be "absurd."
Migration Drop | Net migration to Britain from other EU countries is at its lowest level in a decade as Brexit uncertainty escalates. EU net migration has plunged by 70 percent since Britain voted to leave the bloc in the June 2016 referendum. That may please Brexit supporters — many of whom were driven by a desire to curb free movement for EU nationals — but the fall is making it harder for sectors that rely on European workers to fill vacancies.
Italian Chiefs | Italy's government is leaning toward renewing the mandates of chief executive officers at three state-controlled firms. It's another sign of growing influence for the business-friendly League party over its anti-establishment coalition partner, the Five Star Movement. But don't expect the issue to break up the coalition. Deputy Prime Minister Luigi Di Maio tells us he sees the partnership holding. 
Treat Yourself | The weekend is coming so we thought we'd share some more practical information. Got some spare cash and don't know how to spend it? From surfboards and vintage cars to a Portuguese castle or an Egyptian sarcophagus mask, here's all the shopping inspiration you'll need for a treat.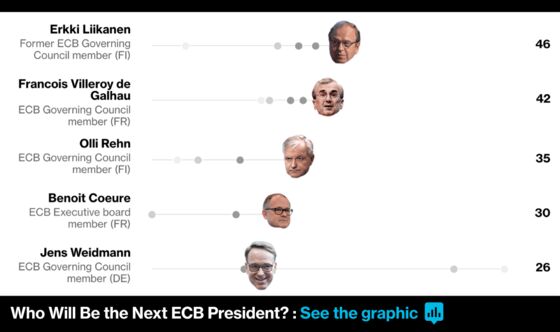 The race to succeed Mario Draghi as president of the European Central Bank looks increasingly like a Franco-Finnish affair, with a Bloomberg survey of economists showing two officials from each nation among the top four contenders. Erkki Liikanen, former chief of the Finnish central bank, remains in the lead and just ahead of French Governor Francois Villeroy de Galhau. Liikanen's compatriot Olli Rehn leaps to third, with France's Benoit Coeure in his wake. Germany's Jens Weidmann trails in fifth place.
11 a.m. Eurostat to release flash estimate reading on euro-area inflation in February and January unemployment data
The European Parliament will release the second set of seat projections for the composition of the next assembly. The data is based on a selection of polls conducted in the member states ahead of May's EU-wide ballot
Informal meeting of EU's telecommunications ministers
The EU's cyber-security agency ENISA hosts a conference in Brussels focusing on cyber-threat intelligence and cyber certification of technological devices and other gear
Competition Chief Margrethe Vestager travels to Poland 
 NATO Secretary General Jens Stoltenberg travels to Bulgaria