Trump Willing to Meet With Rouhani at UN, Pompeo Says
(Bloomberg) -- President Donald Trump is willing to meet with Iran's Hassan Rouhani at the United Nations this week, said U.S. Secretary of State Michael Pompeo -- even as another top official took credit for the U.S. sending Iran's economy into free-fall with crippling sanctions.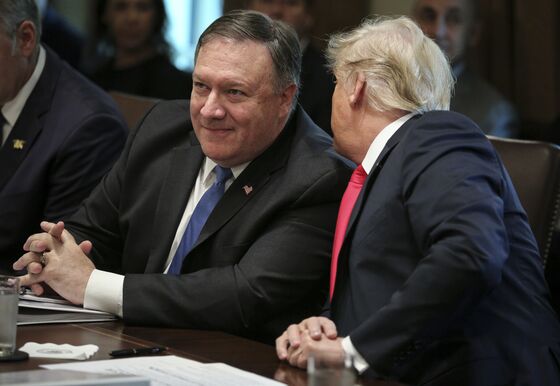 "He's happy to talk with folks at any time," Pompeo said on NBC's "Meet the Press," one of two appearances on Sunday political talk shows. "The president's been pretty clear about that." The onus is on Rouhani to reach out, Pompeo added.
Trump will address the United Nations General Assembly on Tuesday and host a meeting of the UN Security Council on Wednesday. Depending on the agenda that Trump sets for the Security Council meeting, Iran's president may be in the room.
Trump tweeted on Friday that he would concentrate on Iran, although administration officials still say the session will be a broader discussion of preventing the proliferation of weapons of mass destruction.
Under UN rules, Iran, which isn't currently a member of the Security Council, can attend a meeting if it's going to be the main subject of discussion. Trump's characterization raises the prospect of an encounter, chance or otherwise, between Trump and Rouhani.
Debate has been rating in Iran about whether Rouhani should attend the UN gathering. Hardline conservatives called for a boycott of the meeting in response to the "insults" of a U.S. administration determined to weaken the Islamic Republic.
Rouhani should stay away to "belittle" the U.S. president, wrote Hossein Shariatmadari, editor-in-chief of hardline newspaper Kayhan, who was appointed by Supreme Leader Ayatollah Ali Khamenei. Still, Rouhani's office has said he will head for the U.S.
Trump withdrew from the nuclear deal that his predecessor, President Barack Obama, signed in 2015 with Iran and five other countries. He plans to back up the controversial exit this week by telling European counterparts that the nuclear accord is failing, and that European companies are opting to leave Iran to avoid risking their U.S. business ties, according to administration officials.
On "Fox News Sunday," Pompeo said that if Trump sat down at some point with Khamanei -- however remote that might be -- it would represent "an important and interesting conversation."
"The leader of the country is the Ayatollah Khamenei," he said. "The president said he'll talk with anyone if we can have a constructive conversation."
Khamenei, who has final say over state matters in Iran, has called for no talks with the U.S. until it returns to the nuclear deal. He said an attack by militants that killed 29 at a military parade in the south of the country on Saturday was a continuation of "conspiracies by U.S.-backed regimes in the region."
"When you have a security incident at home, blaming others is an enormous mistake and the loss of innocent life is tragic," Pompeo said, referring to similar comments from Foreign Minister Mohammad Javad Zarif.
The rhetoric shows the U.S. pressure campaign is working, and Iran's economy is faltering, said Nikki Haley, the U.S. ambassador to the United Nations. The U.S. position remains not to do business with European countries that engage with Iran, and they're making that decision, Haley said on CBS's "Face the Nation," one of three appearances on Sunday.
"If you look, they are dropping business from Iran left and right," Haley said. "Iran's economy is plummeting." On CNN's "State of the Union," Haley said Iran is "getting desperate."
On the possibility of a Trump-Rouhani meeting, Haley said the president isn't opposed to one if asked, but that "Rouhani hasn't done anything to warrant a meeting."
U.S. pressure that includes sanctions coming in November have disrupted Iran's "efforts to impose their will" in the region, and more sanctions are possible if necessary, National Security Adviser John Bolton said.
"We want massive changes in behavior by the regime in Iran, and if they don't undertake that, they'll face more consequences because we'll find more sanctions to impose and other ways to put maximum pressure on them,'' Bolton said on Fox's "Sunday Morning Futures."
Pompeo has been a chief proponent of Trump's efforts to confront Iran. After announcing a dozen conditions earlier this year that Iran must meet to be considered a "normal" country, Pompeo in August unveiled the creation of an "action group" of U.S. officials to coordinate efforts to increase economic and political pressure on the Islamic Republic.
Asked about having a constructive dialog with Iran, Pompeo said on NBC that it doesn't seem likely. Iran's behavior, he said, "wouldn't indicate any intention to change the fundamental challenge" that the Islamic Republic presents to the world.