Republican Allies Warn Trump: Now's Not Time to Fire Rosenstein
(Bloomberg) -- Senior Republicans cautioned President Donald Trump against firing Deputy Attorney General Rod Rosenstein before an investigation of reports that Rosenstein privately discussed whether to tape the president and try to remove him from office.
"He shouldn't fire Rosenstein unless you believe Rosenstein's lying," Senator Lindsey Graham, lately a key ally of the president, said on "Fox News Sunday," as fallout continued from a New York Times report about Rosenstein's conversations.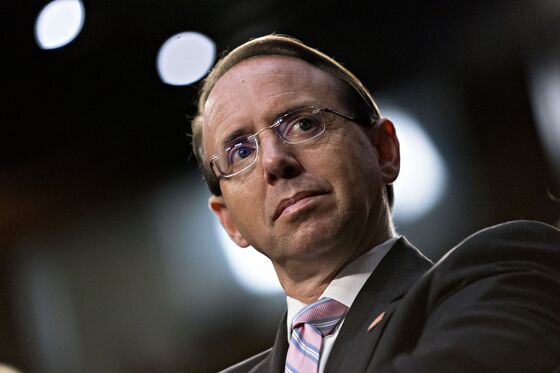 Rosenstein has denied that he considered recording Trump or spearheading an effort to remove him from office via the 25th Amendment to the Constitution.
Graham, however, said Rosenstein, who's overseeing Special Counsel Robert Mueller's investigation of Russian interference in the 2016 election, should name a second special counsel to look into what he called "a bureaucratic coup" against Trump.
The South Carolina Republican said several FBI officials, including fired former Acting Director Andrew McCabe, "tried to destroy this president. If Rosenstein's involved, he should be fired. If he's not involved, leave him alone."
Graham has previously said Trump could replace Attorney General Jeff Sessions but only after the midterm elections, a move that would allow Trump to install someone else to oversee the Mueller probe.
House Intelligence Committee Chairman Devin Nunes repeated his call for Trump to declassify surveillance documents signed by Rosenstein, but cautioned against firing Rosenstein now.
"The answer, I think, is no for now," the California Republican said Sunday on "Fox & Friends." Midterm elections are coming up, and it would take time to bring in witnesses who knew exactly what Rosenstein said, he added.
"Rod Rosenstein should have his fair day in court," Nunes said. "However, if Rod Rosenstein really did talk about wearing a wire, then for sure he should be fired."
Trey Gowdy, chairman of the House Oversight Committee, said Rosenstein should get a chance to explain his side of what happened after a review of evidence, including memos written by McCabe.
"Give Rod a chance to explain whether or not it's true," Gowdy said. "But one thing that's clear: Whether you're a Republican or Democrat president, you have a right to a deputy attorney general that doesn't think you're incompetent and doesn't feel the need to audiotape conversations with you."
Meanwhile, Secretary of State Michael Pompeo seemed to suggest Rosenstein should simply quit. "If you can't be on the team, if you're not supporting this mission, then maybe you just ought to find something else to do," Pompeo said on "Fox News Sunday."
Asked if there had been discussion of removing Trump via the 25th amendment, Pompeo said "not remotely."
On Friday, when the conversations in which Rosenstein talked about taping Trump were reported, some conservative pundits called for firing the DOJ official on the spot. But Fox host Sean Hannity, known to be a Trump confidant, said he shouldn't do so, calling it a "set-up."
Democrats have warned Trump not to use the Times report as a pretext for firing Rosenstein and interfering with the Mueller probe.