May Faces Brexit Attack as Corbyn Pressed on 2nd Referendum
(Bloomberg) -- Sign up to the Brussels Edition, a daily morning briefing on what matters most in the heart of the European Union.
Theresa May's fiercest critics will spell out their Brexit demands on Monday, just as the embattled Conservative leader heads into a potential showdown with her top ministers.
How the prime minister emerges from those domestic battles -- further weakened or limping on -- is a key question after last week's bruising put-down by European Union leaders. Her defiant response has given her little respite, with speculation about challenges to her leadership and the Sunday Times reporting plans for a possible snap election in November.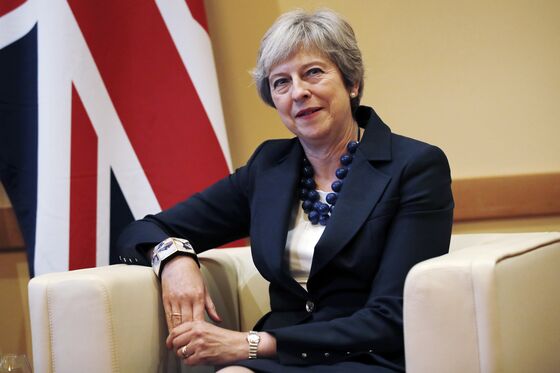 May will convene her Cabinet hours after her former Foreign Secretary Boris Johnson and former Brexit Secretary David Davis endorse an alternative plan for a much harder departure. The Institute of Economic Affairs will publish a blueprint arguing that the U.K. should seek a free trade agreement modeled on the one Canada just struck with the EU.
It's unfortunate timing for May, who on Friday accused the EU of disrespecting her and offering options that were unacceptable. The tone was welcomed by the Brexit hardliners in her party, but they still wanted her to change position.
"Her stirring speech does not make a bad plan good, but it does show that she has the willpower to deliver something better," Jacob Rees-Mogg, chairman of the pro-Brexit European Research Group, wrote in the Mail on Sunday.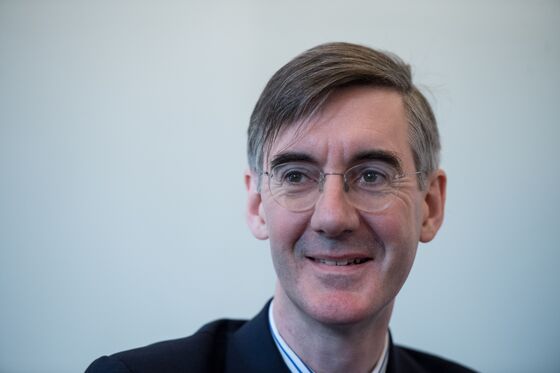 Meanwhile, in Liverpool, the opposition Labour Party is creating a different kind of Brexit problem for May by leaving the door open to supporting a second referendum on leaving the EU. It's something that May gets asked repeatedly and on Friday outright rejected.
Labour Leader Jeremy Corbyn on Sunday repeated that he'd rather have an election, but many activists want him to take a stronger line, and he said he would accept whatever this week's conference decides.
"Our preference would be for a general election," Corbyn told the BBC's Andrew Marr Show. "I'm there elected as leader of this party in order to bring greater democracy to this party. Obviously I'm bound by the democracy of our party."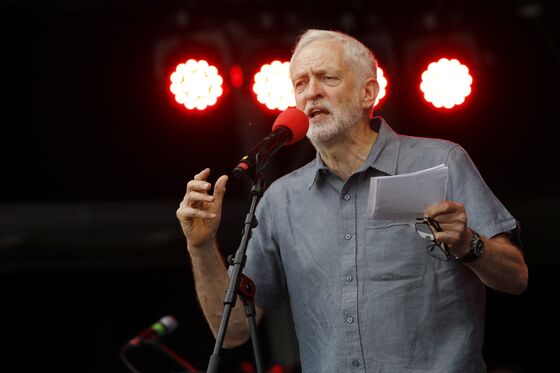 Delegates emerged from a five and a half hour meeting running until just before midnight on Sunday with the wording of a compromise motion that will be put to the conference on Tuesday.
"If we cannot get a general election, Labour must support all options remaining on the table, including campaigning for a public vote," says the motion, which was refined from more than 100 submitted to the conference. "If the government is confident in negotiating a deal that working people, our economy and communities will benefit from, they shouldn't be afraid to put that deal to the public."
The people's vote campaign said it represents "clear movement" from the Labour Party towards supporting a second referendum.
It was only last year that the country went to the ballot box, and that was a miscalculation by May, who wanted to bolster her majority in Parliament and instead ended up losing it. Now, the Sunday Times is saying aides to May have discussed the possibility of a November vote to get her out of her current bind.
According to the paper, the prime minister would use such an election to seek a mandate for a harder Brexit stance. To take such a step she'd need the support of Tories, and even if they backed her plan, they might well want someone else doing the campaigning. The suggestion that anyone around May was planning such a thing was rejected by her office.
Monday's Cabinet meeting is due to discuss a range of issues including what immigration policy the U.K. should adopt after Brexit. According to a person familiar with his thinking, Home Secretary Sajid Javid will set out a plan for a system in which immigrants are given visas on the basis of skills or wealth.
Preference would be given to people from countries with which the U.K. had a free trade agreement, said the person, who asked not to be identified because the plans are confidential.
Given the setback at the EU summit in Salzburg, May could be given a hard time by those ministers who want more distance from the bloc. It remains to be seen if they rally around her or mount an attack. The Daily Telegraph reported Monday that majority of the Cabinet now supports moving toward a Canada-style trade deal.
In a week's time the Conservatives will hold their own annual conference, where the topic of Brexit will once again be hard to dodge.
At Labour's gathering, senior figures have tried to avoid talking about Brexit. The party is split between those who regard leaving the EU as an economic disaster and those who fear alienating voters who backed Brexit.
Corbyn himself has been suspicious of the EU for most of his career, and during the referendum campaign he only campaigned half-heartedly to stay.