Labour Would Force U.K. Firms to Hand 10% of Equity to Staff
(Bloomberg) -- U.K.-based companies with more than 250 employees would be forced to give 10 percent of their equity to staff if Labour wins the next election.
John McDonnell, the man who would set economic policy should the U.K.'s main opposition party come to power, will make the pledge in a speech on Monday.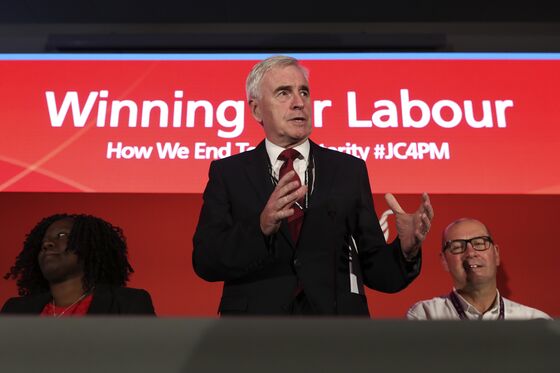 The shares would be handed over at a rate of one percent a year and held in Inclusive Ownership Funds that would pay annual dividends to a maximum of 500 pounds ($653) per employee, McDonnell will tell the party's annual conference in the English city of Liverpool.
Any dividends above that amount would be skimmed off by the government for a "social fund" to help pay for public services.
"Workers, who create the wealth of a company, should share in its ownership and, yes, in the returns that it makes," McDonnell will say, according to extracts released by his office. "The evidence shows that employee ownership increases a company's productivity and encourages long term thinking."
The plans are an extension of policies aimed at redistributing wealth and giving more control to "the many, not the few" that helped Labour erase Theresa May's majority in the 2017 general election. McDonnell will also repeat pledges to renationalize rail, water, energy and mail services as part of the most Socialist program to be offered to U.K. voters since the early 1980s.
Shares at Risk?
The proposals would go far beyond any employee involvement in companies in continental Europe. While employee representatives hold half the seats on supervisory boards in Germany, for example, they have no ownership in the companies.
Implementing the Labour proposal would essentially amount to a free giveaway. To do so, the company would either need to purchase the stake from shareholders or issue new shares, which would dilute everyone's holdings.
In an interview with Bloomberg TV on Monday, McDonnell said business shouldn't be concerned at the plans.
"It's one percent a year over a 10 year period, it's hardly draconian," he said. "I think this is beneficial. We will meet with organisations, we will consult them on the detail of the implementation."
The Labour Party, neck-and-neck in the polls with May's Conservatives, wants to force an election if the embattled premier fails to reach an agreement on Brexit, and says that it has legislation ready to go the moment it wins power.
"The Tories hate each other even more than they hate us and I believe they could fall apart at any time," McDonnell told a rally of thousands of supporters outside the conference venue on Saturday evening. "We've got to be ready."
Shares in the funds would be held collectively so staff wouldn't be able to sell them if they left the company. Employees would exercise voting rights through a representative body, giving them an increased influence over company boards as the program rolled out, Labour said.
The funds would cover about 40 percent of the workforce, or 10.7 million employees, according to McDonnell's office, and the windfall for the government from dividends over 500 pounds per employee would amount to 2.1 billion pounds after five years.
"We believe it's right that we all share in the benefits that investment produces; that's why a proportion of revenues generated by the 'inclusive ownership funds' will be transferred back to our public services as a social dividend," McDonnell will say in his speech. "It's the collective investment that we as a society make that enables entrepreneurs to build and grow their businesses."
McDonnell doesn't expect companies to move their listings or headquarters out of the U.K. in response to the move, his office said.
The party argues that one in eight companies have diluted their shares in any case, by using scrip dividends in the past four years. Giving equity to their staff would amount to "very small change" in return for a more motivated and involved workforce, the party says.
Business groups disagree. Labour's "diktat on employee share ownership will only encourage investors to pack their bags and will harm those who can least afford it," Caroline Fairbairn, director general of the Confederation of British Industry, said in an email. "Business has been resilient in the face of uncertainty, but Labour's anti-business positioning is starting to bite."
The Conservatives accused McDonnell of dreaming up another tax on business that would harm workers.
"This proposal is yet another tax rise from a party that already wants to hike taxes to their highest level in peacetime history," Liz Truss, Chief Secretary to the Treasury, said in a statement. "It would make it harder for local businesses to take on staff and pay them a good wage."
Labour also pledged to introduce a tax on second homes to fund the building of social housing. Properties used as holiday homes would be subject to "a national levy based on the value of the property, equivalent to double the current rate of council tax," the party said in an email.
As many as 174,000 properties could be affected, and the levy could raise more than 560 million pounds a year, Labour said. The highest concentrations of properties affected would be in rural areas such as Cornwall and north Norfolk, along with urban areas like the London borough of Kensington and Chelsea, the party said.