Italy's Salvini Pushes Back Against Central Bank
(Bloomberg) -- Italian Deputy Prime Minister Matteo Salvini pushed back against a plea for fiscal caution from the head of the central bank.
"We'll do a courageous budget, the deficit isn't a problem," Salvini told the Corriere della Sera newspaper in an interview published Sunday. A day earlier, Bank of Italy Governor Ignazio Visco had warned the populist government of a negative market reaction and an "unsustainable" risk for the country's massive debt pile if its 2019 budget presses ahead with spending increases and plans to widen the deficit.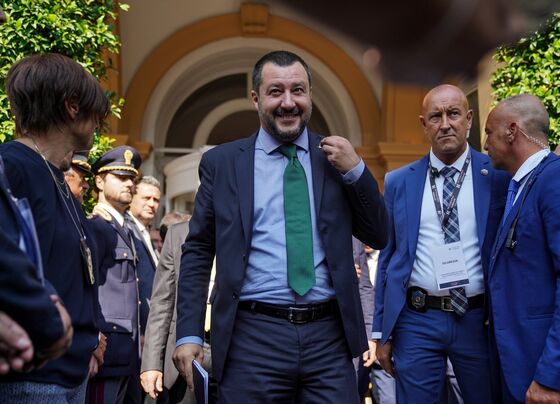 Salvini said that if the budget is courageous, "and it will be," extra decimal points on the deficit won't matter. He said he'd spoken to foreign investors. "All of them, and I underline all, told me the same thing: do a courageous, expansionary budget," the deputy premier said.
Both Salvini's anti-migrant League party, and its coalition partner, the anti-establishment Five Star Movement, are pressuring Finance Minister Giovanni Tria as they seek funds to deliver on campaign promises, including a "citizen's income" for the poor, tax cuts and rollbacks to pension reforms. The government is setting new public finance and economic growth targets, and is due to present its draft budget to the European Commission for approval by mid-October.
The euroskeptic minister for European affairs, Paolo Savona, meanwhile said that, while the government is committed to membership of the single currency, Italy should be ready for a euro-exit scenario. "A well-prepared leadership must be ready for everything," Savona said in an interview with RAI television on Sunday, adding that it would be up to parliament to decide what to do.
Tensions in government were also heightened by a leaked audio tape of a conversation involving Prime Minister Giuseppe Conte's spokesman, in which he threatened a purge of finance ministry officials accused of holding up the government's spending plans.
In the tape, described by La Repubblica newspaper on Saturday as a WhatsApp recording, Rocco Casalino complained that Finance Minister Tria "is somewhat involved" in attempts to stymie planned spending increases. He threatened a "mega-vendetta" against finance ministry staff "who have been there for decades and who protect the usual system," according to the report of the conversation.
"It's not acceptable that 10 billion can't be found," Casalino was cited as saying in reference to funding for the citizen's income. "If at the last moment they tell us 'we haven't found the money,' in 2019 we'll focus only on getting rid of all these pieces of ... from the finance ministry," he was reported as saying, using a profanity.
Casalino, a senior figure in Five Star, said afterward that his remarks were made "in an absolutely private conversation with two journalists," and that publication violated constitutional safeguards on privacy. He denied that a purge was planned and added that his comments "reflect a perception inside Five Star that I wanted to represent."
Finance Minister Tria hit back. He expressed his "full confidence" in his ministry's senior staff and his "appreciation" of their work to help carry out the government's program, according to a finance ministry official, who asked not to be named.
The premier flagged his support for Tria on Sunday. Asked whether he had confidence in the finance minister, Conte was quoted by newswire Ansa as saying he has confidence "in all the ministers."
At a forum held by the far-right Brothers of Italy party in Rome on Saturday, Salvini meanwhile said Tria was doing his job, "opening and closing the purse strings."
The forum also hosted former Donald Trump strategist Steve Bannon, who's seeking to galvanize populist parties into a loose alliance before European Parliament elections next year, and whose condemnation of what he repeatedly called the Davos and Brussels elite was met with applause from the audience.
"You are not alone. Brexit and Trump and what you voted for in March" -- a reference to the last general election -- "is all of a piece, it's a rejection of the way things are," Bannon said. "It's a total rejection of what the elites have foisted on Western civilization. It's the reason that Italy now is the center of the universe of politics."