South Korea's Moon Faces a World Skeptical of the North's Motives
(Bloomberg) -- South Korean President Moon Jae-in faces a formidable task during meetings in New York this week with Donald Trump and other world leaders: convincing skeptics that North Korean leader Kim Jong Un is actually serious about giving up his nuclear weapons.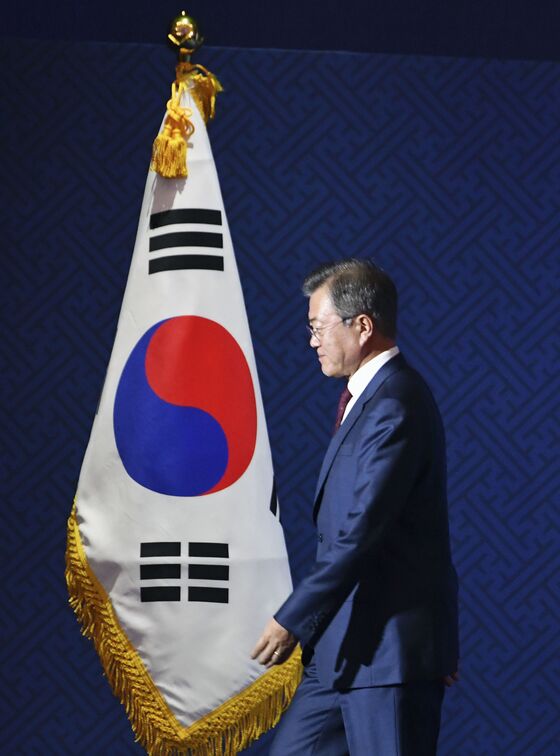 Moon is set to meet Trump on Monday in New York, and will address the United Nations later in the week. The South Korean leader has said he will deliver a private message from Kim to Trump to push along stalled denuclearization talks -- a sea change from a year ago, when the U.S. president called him "Rocket Man" in a UN speech.
At a summit between Moon and Kim in Pyongyang last week, North Korea said it would dismantle a major missile-engine site and possibly its Yongbyon nuclear facility if the U.S. took unspecified "corresponding measures." Many key details were left unclear, including whether inspectors would be allowed to verify the process.
Skeptics of North Korea saw the same old tactics from Kim that the regime has employed for decades: Dangle the possibility of a deal while moving forward with the goal of becoming a globally recognized nuclear power. Since the June summit between Trump and Kim in Singapore, North Korea has pushed for the removal of sanctions without giving up its nuclear deterrent.
But Moon and other optimists see a rare chance to strike a deal that can unwind seven decades of hostility and produce a Korean Peninsula without nuclear weapons. In their minds, Kim will move forward with denuclearization and economic development if he has assurances the U.S. won't overthrow his regime -- and that requires both sides to build trust.
"Moon is focused on convincing Trump about Kim Jong Un and he may succeed," said Scott Snyder, a senior fellow for Korea Studies at the Council on Foreign Relations. "But there is a larger disconnect that will take time and evidence based on actions to overcome, and that Moon so far has not yet been focused on."
Politically, Moon has a lot riding on a deal: He said North Korea didn't honor previous deals because conservative leaders in South Korea didn't respect the agreements. His approval rating rebounded after last week's summit, helping offset a recent drop due to a struggling economy. On Monday, Moon is hoping to sign a revised free-trade agreement with Trump.
North Korea watchers in the U.S. have plenty of reason to be skeptical, however. Decades of talks only seemed to have bought the regime time to develop the capability to threaten the entire U.S. with a nuclear attack, with North Korean negotiators repeatedly throwing up obstacles to real progress on denuclearization.
Deals like the 1994 Agreed Framework negotiated by the Clinton administration contained detailed commitments by Pyongyang to close plutonium-producing nuclear reactors and secure spent fuel rods so they couldn't be turned into weapons-grade fuel. But it and others fell apart, with the U.S. accusing North Korea of reneging on the agreements and Pyongyang claiming that American administrations failed to meet commitments.
"Many people in Washington feel that North Korea has a lot to prove based on the record of failing to live up to agreements,'' Snyder said. "North Korea may feel the same about the U.S."
But South Korea points to several unprecedented events to indicate this time is different. Besides the Trump-Kim meeting in June, leaders of the two Koreas have held three summits this year alone – more than the total in the previous seven decades since fighting stopped. Kim also promised to visit Seoul later this year, another first that Moon hopes would give South Koreans a chance to listen to his thoughts "in his own voice."
Moreover, Kim has also shifted the regime's policy to focus on economic development, potentially signaling different priorities for a leader still in his 30s. And he publicly spoke of the need to turn the Korean Peninsula into a "land of peace without nuclear weapons or nuclear threats'' -- a point South Korean officials found striking.
"What we see happening now, we could not easily see in the past," Lee Do-hoon, South Korea's top nuclear envoy, told reporters. "No previous North Korean leaders have expressed their stance on the denuclearization issue."
In his meeting with Trump, Moon will look to bridge the gap between the two sides that prompted talks to stall since the June meeting. The biggest stumbling block is a request from North Korea to declare an end to the 1950-1953 Korean War as a confidence-building measure before moving onto the next stage of denuclearization.
Moon said a peace declaration would merely amount to a political statement, and a formal treaty that could lead to the withdrawal of UN and U.S. forces wouldn't come until the final stage of denuclearization.
"We aim to declare the end of the war within this year, and I will discuss this issue with President Trump again during the summit," Moon said.
Kim reportedly told South Korean envoys earlier this month that he would like to achieve denuclearization before the end of Trump's first term. That fits a timeline also suggested by Secretary of State Michael Pompeo.
"North Korea is aware of time constraints and changing political situations in the U.S.," said Kim Heung-kyu, a professor of political science at Ajou University. "Kim Jong Un is much more ambitious and audacious at this moment."