Corbyn Will Follow Conference Decision on Second Brexit Vote
(Bloomberg) -- Labour Party leader Jeremy Corbyn said he wants a general election rather than a second Brexit referendum but will be "bound" by the decision of members on whether the U.K. electorate should be given another say on leaving the EU.
Party officials are working on a compromise after more than 100 local organizations submitted motions on Brexit to Labour's annual gathering in Liverpool, northwest England, Deputy Leader Tom Watson said. Many called for a referendum on a divorce deal reached with Brussels while others demanded another vote on the basic question of staying in or leaving the bloc.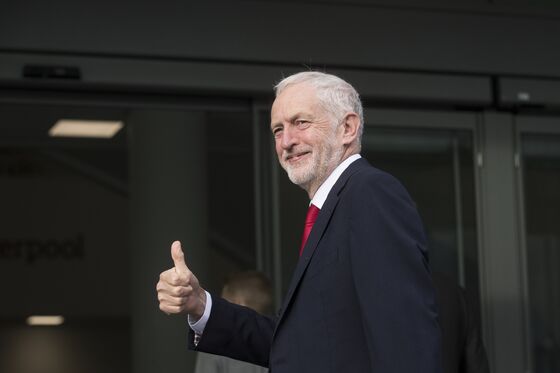 "Our preference would be for a general election," Corbyn told the BBC's Andrew Marr Show. "I'm there elected as leader of this party in order to bring greater democracy to this party. Obviously I'm bound by the democracy of our party."
The party is split over Brexit and Corbyn is trying to balance the debate to prevent alienating voters he would need to win an election. While a majority of Labour lawmakers oppose Brexit, much of the party's heartlands voted for it. Corbyn himself opposed EU membership when Britain joined in the 1970s.
A poll of 1,054 Labour Party members carried out by YouGov for the People's Vote campaign and published on Sunday found that 86 percent want a referendum on the final divorce deal with the EU.
The party leadership -- backed by Unite, its biggest trade-union backer -- wants a so-called composite motion that would keep the option of a second vote open but not tie the hands of Corbyn's team.
Representatives of all of the local parties that submitted motions will meet in Liverpool on Sunday evening to try to reach consensus on a proposal to put to delegates and the resulting compromise will be published on Monday morning. Brexit spokesman Keir Starmer will attend the meeting but the decision will be taken by members, the party said.
The motion will then be debated and voted on by delegates on Tuesday, which is "Brexit day" at the conference.
Rebecca Long-Bailey, Labour's business spokeswoman, said the difficulty of holding a second referendum without a general election would be that Theresa May's government would get to set the terms of the vote.
"If the current government was in power, they would hold the pen," Long-Bailey told Sky News. "I would rather push the government into a general election."
Len McCluskey, general secretary of Unite, added his voice to warnings about holding a second vote, saying it should be on the deal, not EU membership. Some Labour voters have threatened to switch their support to ensure Brexit goes through, he said.
"There are significant numbers of traditional Labour supporters who are saying we're going to vote Conservative because we don't trust Labour to take us out of the European Union," McCluskey told BBC Radio 5 Live. "We're coming out of the European Union, for us to now enter some kind of campaign that opens up that issue again I think would be wrong."
Corbyn refused to say which way he would vote if there was another referendum.
"It's conjecture what the question would be," he told the BBC. "We don't know what it would be. In the referendum, I wanted to remain and reform the EU."
Protesters dressed in the blue and yellow colors of the EU flag gathered outside the conference on Sunday afternoon to call for another referendum on Brexit, with some focusing their anger on Corbyn's reluctance to speak out.
"He's been very weak," said Cathrine Sowler, 39. "I think he's in line with the Conservative party on Brexit."
Corbyn said the party is ready with a suite of policies for a socialist government that would re-nationalize rail, water, energy and mail services and improve opportunities for the poorest in society.
He also said he would introduce a tax on second homes to fund the building of social housing. Properties used as holiday homes would be subject to "a national levy based on the value of the property, equivalent to double the current rate of council tax," the party said in an email.
As many as 174,000 properties could be affected and the levy could raise more than 560 million pounds ($732 million) a year, Labour said. The highest concentrations of properties affected would be in rural areas such as Cornwall and north Norfolk, along with urban areas like the London borough of Kensington and Chelsea, the party said.