Brazilian Women's #NotHim Movement Hits Presidential Frontrunner
(Bloomberg) -- Brazil's far-right presidential candidate Jair Bolsonaro built much of his reputation on shocking, sexist rhetoric. But that's backfiring with the majority of the electorate: women.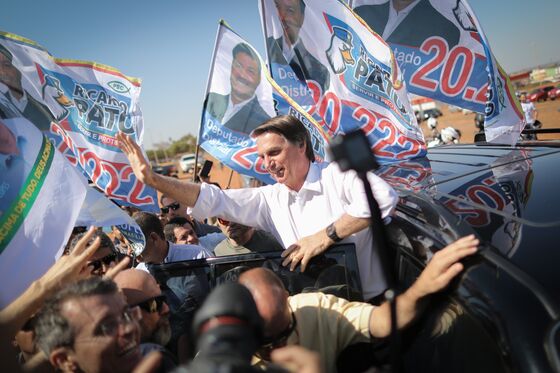 The former Army captain's rejection rate has risen to 50 percent among female voters, even as he lies on a hospital bed after being stabbed by a fanatic on Sept. 6. A social media campaign against his presidential bid is gaining traction under the #NotHim hashtag, with women planning nationwide rallies against the candidate on Sept. 29.
Among his outrageous remarks, Bolsonaro once said a congresswoman was "too ugly to merit raping." He described the birth of his daughter as a moment of "weakness" after his four sons. He said there is no problem if women receive lower salaries than men for the same job because they get pregnant. His campaign hit a new low with women last week when his vice-presidential pick, General Hamilton Mourao, said poor families led by single mothers and grandmothers were "factories of misfits."
Bolsonaro later disavowed his running mate's comments. If no candidate wins over 50 percent in the first round vote, the two frontrunners will square off in a second round, where Bolsonaro's high rejection rate could prove a major obstacle. Opinion polls show him statistically tied with or losing to his possible contenders. A press spokesman for Bolsonaro told Bloomberg that the campaign did not wish to comment on the issue.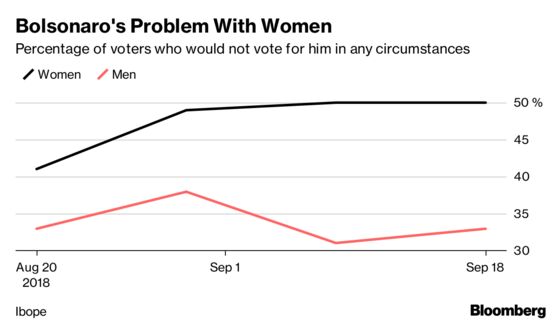 In the streets of the capital, Brasilia, the anger among some women was evident. "I feel sorry for women who vote for Bolsonaro, they don't have any understanding of life," said Stefani Martins, a 27-year-old female student. "He has that old-fashioned chauvinistic mindset."
Some female stars joined the chorus. "I wouldn't vote for a misogynist and homophobic candidate," Brazilian pop star Anitta told her 7.4 million Twitter followers in a video, although she declined to mention any candidate by name. British singer Dua Lipa went further, re-tweeting a New York times opinion column against Bolsonaro with the hashtag "EleNão," which means NotHim in Portuguese.
A Facebook page called "Women United Against Bolsonaro" garnered some 3 million followers once its administrators regained control of the group after a hacking.
Still, the former paratrooper polls at 20 percent among women, according to the latest Ibope poll, higher than any other candidate. Supporters of Bolsonaro tend to overlook his controversial remarks.
"He is very eloquent and that isn't always understood," said Janaina Paschoal, a law professor who authored the impeachment request against former President Dilma Rousseff of the Workers' Party and later joined Bolsonaro's party. "What do women prefer: a harsher candidate who will continue to clean up the country, or a supposedly kind candidate who will bring the Workers' Party back?"
Despite making up 52.3 percent of the electorate. Brazil's women have long been underrepresented in the country's politics. Just under 10 percent of congress is female and there is only one woman among the 13 presidential candidates running in this election.
Nevertheless, women have a history of turning out on polling day, according to political scientist Jairo Nicolau, a professor at the Federal University of Rio de Janeiro. Voting is mandatory between the ages of 18 and 70 in Brazil, but many flout the law.
"No candidate in any previous election had such a large difference between men and women as Bolsonaro has this year. This abyss is a major obstacle for him," he said. "Aside from the disparity that already exists, women are starting to mobilize and these movements are gaining traction."