Anti-Semitism Claims Haunt Corbyn's Conference Push for Power
(Bloomberg) -- For any U.K. party leader, the round of broadcast interviews on the first weekend of their annual conference is an opportunity to set the agenda and lay out plans for the year ahead.
But for Jeremy Corbyn, leader of the opposition Labour Party, his appearance on the BBC's flagship Sunday politics show was dominated by allegations of anti-Semitism, consorting with terrorists and splits over Brexit.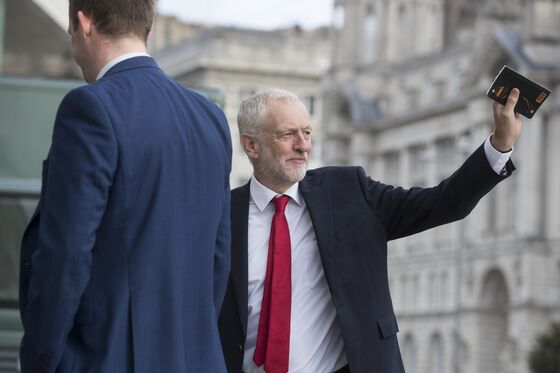 "I completely and utterly reject the idea that I'm an anti-Semite or any kind of racist," Corbyn told BBC TV's Andrew Marr Show, as the Labour Conference began in the northern city of Liverpool. Shortly afterward, he reassured the audience that "I'm not a supporter of Black September," the terrorist group that killed Israeli athletes at the 1972 Munich Olympics.
Corbyn did manage to talk a bit about his plans for a re-distributive socialist government if he wins the next election, but having to deny that he's a racist is not how he wants to present his party to the world.
Corbyn endured an onslaught of attacks over the summer over allegations that he's failed to adequately deal with anti-Semitism among some of his left-wing supporters, that he attended a wreath-laying in honor of Palestinian terrorists and that he defended a mural that depicted caricatures of Jews.
Until today, he chose to respond in media statements and short clips to camera showing varying degrees of impatience -- in one he rolled his eyes as he was asked about the wreath-laying. Sunday's appearance was his first set-piece interview on a major TV news show since the allegations were made.
In a speech to a rally on Saturday night, Corbyn thanked his followers for "the support I've personally had through a lot of attacks from the mainstream media."
And the Marr appearance will help feed the narrative among his supporters that their champion is under siege from media outlets dominated by vested interests threatened by his program for government.
"The more those people come after us, the stronger we are," he said to loud applause on Saturday evening.