U.S. May Restrict Green Cards to Aid Recipients in Crackdown
(Bloomberg) -- The U.S. may deny green cards to immigrants who have legally used or seem likely to use a range of public benefits, including food assistance or housing vouchers, under new rules announced by the Trump administration on Saturday.
The proposal, "Inadmissibility on Public Charge Grounds," will be posted in the Federal Register in the coming weeks and subject to a 60-day public comment period.
It revamps a 1999 rule that sought to withhold green cards from immigrants deemed likely to become dependent on government cash assistance, to for the first time include non-cash programs. One immigrant rights group called that a radical transformation.
"The adjustments to 'Public Charge' would rig our immigration system so green cards would only go to the highest bidder," National Immigration Law Center said in a series of Twitter posts. "This is a regulatory backdoor approach to separate more families."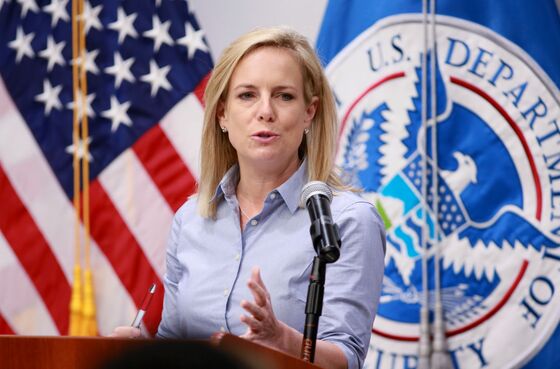 The move is the latest by President Donald Trump to crack down on immigration, both legal and illegal. Earlier this month, the U.S. announced it would cap the number of refugees admitted to the U.S. in 2019 at 30,000, the lowest ceiling since Washington created a refugee program almost four decades ago.
"This proposed rule will implement a law passed by Congress intended to promote immigrant self-sufficiency and protect finite resources by ensuring that they are not likely to become burdens on American taxpayers," Homeland Security Secretary Kirstjen Nielsen said in a statement.
The rules, which run to almost 450 pages, would make non-immigrants who receive or are considered likely to receive designated public benefits above a designated threshold ineligible for a change of status -- such as the granting of a green card -- and extension of stay in the U.S.
The use of the Supplemental Nutrition Assistance Program, often known as food stamps, and Section 8 housing assistance would be among the benefits considered. And older immigrants may be forced to stop participating in programs like Medicare Part D low-income subsidy, which makes available discounted prescription drugs, or risk being deemed a "public charge" and thus ineligible for legal resident status.
Some immigrants may be asked to post cash bonds to avoid being denied green cards until the new regulations, the New York Times reported earlier.
Eric Garcetti, mayor of Los Angeles, predicted that "hundreds of thousands of our neighbors may be unable to see their doctors, keep a roof over their heads, or afford a trip to the grocery store" if they wish to remain in the nation. Chicago Mayor Rahm Emanuel said the rule "unfairly targets the most vulnerable."
The administration estimated the regulations would affect an average of about 382,000 people a year. Immigrants who already have green cards -- legal permanent residents -- wouldn't be swept up in the changes for now.
"The United States continues to be a global leader in humanitarian protection," DHS said in a press release.
Some conservative groups have praised earlier moves by Trump and Congressional
Republicans toward a more merit-based system that would cut the influx of lower-skilled immigrants they see as a drain on the public purse.
A never-enacted 2017 proposal from Senators Tom Cotton of Arkansas and David Perdue of Georgia, endorsed by Trump, would have limited future low-skill immigration. The plan "has the potential to save U.S. taxpayers trillions of dollars," Heritage Foundation analysts Robert Rector and Jamie Bryan Hall wrote in a 2017 commentary.