Trump Vows to Rid FBI, Justice Department of 'Lingering Stench'
(Bloomberg) -- President Donald Trump vowed to rid the Justice Department and FBI of "bad" people, echoing previous criticism he's made that the law enforcement agencies he controls are tainted by political bias.
"Just look at what is now being exposed in our Department of Justice and FBI," Trump said Friday night at a rally in Springfield, Missouri. He told his audience that a lot of "bad" people were already gone, but "there is a lingering stench and we're going to get rid of it."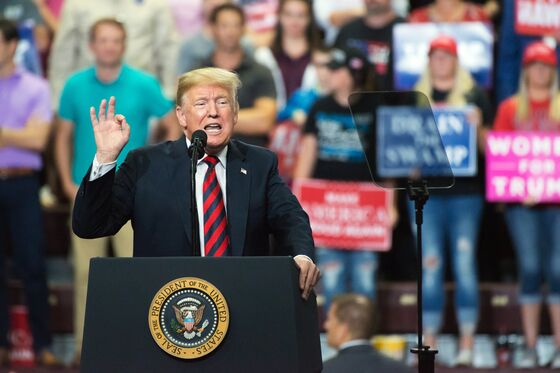 Trump's comments came just hours after the New York Times reported that Deputy Attorney General Rod Rosenstein suggested to Justice Department colleagues last year that he secretly record conversations with the president, though at least one person who was present said he was joking.
The Times said he also discussed identifying cabinet members willing to invoke the 25th Amendment, which provides for the removal of a president who's unfit for office.
Rosenstein disputed the Times account of the comments, which it reported he made just weeks after becoming deputy attorney general and being caught up in the uproar over Trump's dismissal of FBI Director James Comey.