Hungarian School Linked to Soros May Succumb to Illiberal Wave
(Bloomberg) -- Mustafa Elhassan came from Sudan to Budapest to study human-rights law at a school built to spread democracy after the fall of the Iron Curtain.
But the 26-year-old realized that Central European University wasn't the place he expected. Arriving in Hungary, where Prime Minister Viktor Orban is working to abolish the liberal values that underpin the European Union, he'd landed on the front line in a global battle for democratic ideals.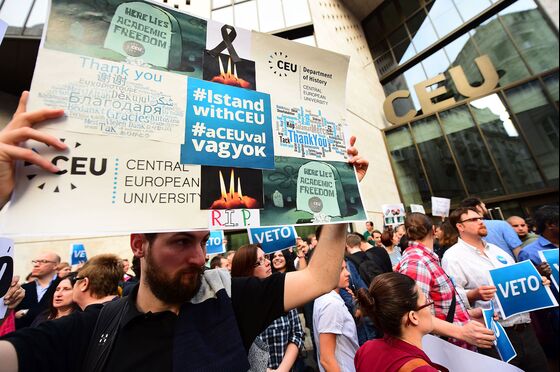 "I came here to learn about liberal democracy and about how Europe deals with violations of human rights," Elhassan said in the cafe of CEU's glass and limestone building in Budapest. "What I found is that it's an issue here. I didn't find the solution."
CEU is under threat as right-wing and anti-establishment forces build momentum to counter the checks and balances and multicultural inclusion that has ruled the EU for the past seven decades. From next year, Hungary plans to bar CEU, which was established by Hungarian-born investor and philanthropist George Soros to promote his vision of open societies, from enrolling new students after tightening rules for international universities.
It would mark the first time a European Union member state expels a university, prompting EU lawmakers to overwhelmingly vote this month for a sanctions mechanism against Hungary for posing a "clear risk" to the rule-of-law.
It also underscores the extent to which Orban, who has won three straight landslide election victories, has targeted dissenting voices in all walks of life, from the courts to the press.
"CEU of course is not the only problem, we're a symbol of a much wider problem," said Michael Ignatieff, a former liberal Canadian politician who's the university's president. "We've been taken hostage."
Orban has inspired like-minded parties across the EU, with euroskeptic forces taking power in Poland and Italy and making big gains in other countries, most recently in Sweden. That coincides with a push by nationalists to mobilize ahead of next year's European Parliament elections and create the type of infrastructure that once buoyed democratic ideals across the bloc.
Steve Bannon, the architect of U.S. President Donald Trump's populist movement, is planning a roadshow across the continent to galvanize populists into an alliance before the vote. And in a film-negative effect to CEU's mission of promoting liberal democracy, French politician Marion Marechal, the niece of nationalist leader Marine Le Pen, opened her own graduate school this month to train a new generation of "patriotic elite," calling French President Emmanuel Macron's battle to preserve the EU's liberal traditions "an anomaly."
CEU was founded after the collapse of communism to train a new generation of democratically-minded leaders across eastern Europe and the former Soviet Union. Alumni include the current president of Georgia, former justice ministers of Croatia and Romania and the first-ever Roma member of the European Parliament. Ilgar Mammadov, a human rights activist freed this month in Azerbaijan after five years in prison, is also a graduate.
Whether EU pressure will now help the university, which has 1,500 students from more than 80 countries, is another matter, and CEU has made arrangements for a campus in Vienna.
Speaking in Strasbourg, France a day before the EU assembly's vote, Orban was defiant, telling reporters he had no intention to compromise on CEU just months after winning in a third consecutive landslide election. Even if he did, Orban said, Hungarian lawmakers won't back a deal "even if they rip their heads off."
"The system in today's Hungary is the complete opposite of what we wanted to help achieve," Soros said last year. Soros moved the office of his Open Society Foundations from Budapest to Berlin this year out of concern for his employees' safety. He didn't respond to a request to be interviewed for this article.
For Elhassan, the Sudanese student, the sense that Europe doesn't have all the answers hit him as soon as he got off the plane. Looking for an apartment to rent, he said he was repeatedly turned away by what he now attributes to xenophobia.
"I came to Europe, and I thought I'd find the best example of democracy," Elhassan said. "I didn't."