Poles Take to Streets Demanding Bigger Share in Economic Boom
(Bloomberg) -- Demands for higher pay and a greater share of Poland's wealth escalated into a labor showdown in Warsaw on Saturday, a sign the European Union's biggest eastern economy won't remain immune to wage pressures rippling across the continent's former communist nations.
Weeks before a local government election, Poland's second-largest labor union mobilized about 15,000 members to take to the streets in the capital, saying the ruling Law & Justice party has failed to deliver on pledges of more inclusive economic development.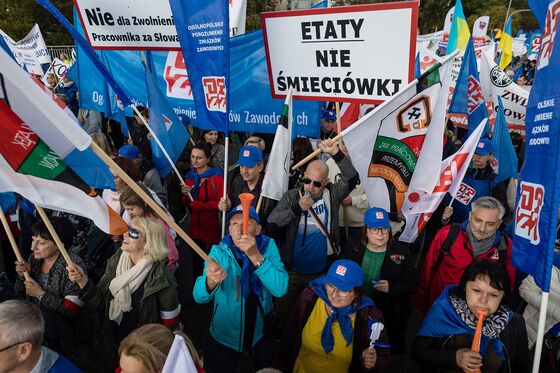 The All-Poland Alliance of Trade Unions, known by its Polish acronym OPZZ, is calling for raises in salaries and the minimum wage for those employed mainly in the public sector and by smaller companies, where wage growth has lagged behind large businesses.
"Contrary to the promises, the benefits of robust economic expansion aren't distributed fairly and are clearly not up to the expectations raised by the state budget performance," Barbara Popielarz, OPZZ deputy chairman, said by phone. "Workers again are the last to benefit from growth."
The protest represents a new challenge for Poland's three-year-old government, which is already embroiled in a standoff with the EU and faces four different election campaigns over the next 21 months. With Poland enjoying the fastest economic growth in almost a decade, Law & Justice has until now met only scattered rallies from workers in the country of 38 million.
The government's draft budget envisages next year's public-sector deficit at 1.8 percent of gross domestic product, far below the EU's 3 percent cap. That's despite measures ranging from unprecedented family benefits to a decrease in the pension age and financial support for retirees and the handicapped.
Keeping a lid on the fiscal shortfall will be increasingly harder with Poland's expansion probably past its peak and political pressure on the government before elections.
Most of about 700,000 people employed in the public sector have seen no pay raises since 2010, and a planned boost of 2.3 percent won't be enough, according to OPZZ. The government has also agreed to increase the minimum wage to 2,250 zloty ($614) next year from the current 2,100 zloty. Average pay at large companies is currently at 4,800 zloty.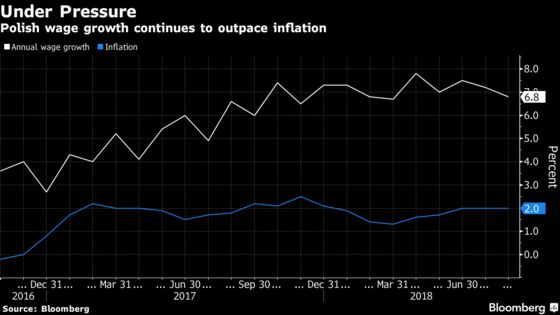 Labor shortages across eastern Europe have kept up pressure on salaries, forcing employers in countries including the Czech Republic to compromise over pay. But Bank of America Corp. has called Poland the region's "laggard" as wage growth hasn't fed through to inflation. That may be about to change if the government caves to the latest demands. Price growth has been below the central bank's target for six years.
"In Poland, labor cost pressures seem to be less severe compared to the Czech Republic and Hungary, likely thanks to more open immigration policy," said Mai Doan, an analyst at BofA. "The upcoming election season in Poland may see more populist policies."