Trump Rallies GOP as Kavanaugh Charges Resonate in Senate Races
(Bloomberg) -- President Donald Trump is taking his campaign to maintain Republican control of the Senate to a pair of states where the sexual assault allegation against his Supreme Court nominee, Brett Kavanaugh, is beginning to reverberate.
Trump held a rally in Las Vegas Thursday night and will hold another in Missouri on Friday in support of Republican men facing Democratic women in two of the nation's tightest Senate races. In Nevada, Senator Dean Heller dismissed the allegation against Kavanaugh as a "hiccup." In Missouri, Attorney General Josh Hawley, the GOP Senate candidate, complained Democrats "ambushed" the high court nominee.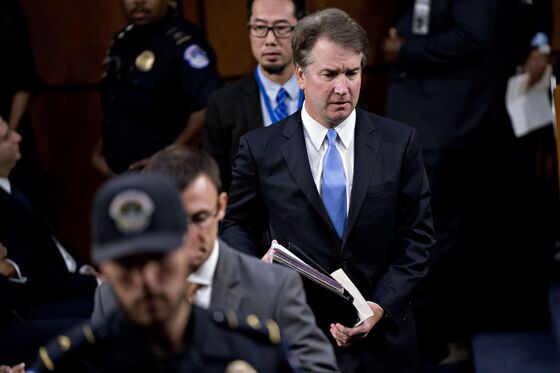 Heller's opponent, Representative Jacky Rosen, said Heller has "made clear that he doesn't take these disturbing allegations or the job of vetting Supreme Court nominees seriously." Rosen and the Missouri Democrat who Hawley is challenging, Senator Claire McCaskill, both have demanded a federal investigation of the allegation.
A California college professor, Christine Blasey Ford, accused Kavanaugh of forcing himself on her at a house party in the early 1980s while they both were in high school in suburban Maryland. Kavanaugh says the episode never happened. The allegation, first detailed in a Washington Post article on Sunday, has delayed votes to confirm Kavanaugh to the court. Both he and Ford may testify to the Senate Judiciary Committee next week.
Kavanaugh Opposition Growing
Trump himself has approached the issue carefully, saying publicly that Ford's story should be heard and considered by senators before they vote on the nomination. Public opposition to Kavanaugh is rising, with voters against the nomination by 38 percent to 34 percent, according to an NBC/Wall Street Journal poll taken Sunday through Wednesday. In July, the same poll found 32 percent in favor versus 26 percent against.
The president told his Las Vegas audience on Thursday night that Kavanaugh was "one of the finest human beings you will ever have the privilege of knowing."
The Kavanaugh allegation emerged against the backdrop of the growing #MeToo movement to hold men accountable for sexual misconduct, and it's already seeping into congressional campaigns.
"I am hearing about it," said Madeleine Dean, the Democratic nominee for Pennsylvania's Fourth Congressional District in suburban Philadelphia. "You can't have a conversation with folks without it coming up." Former President Barack Obama will rally on behalf of Dean and other Democratic candidates in Philadelphia on Friday while Trump is campaigning in Missouri.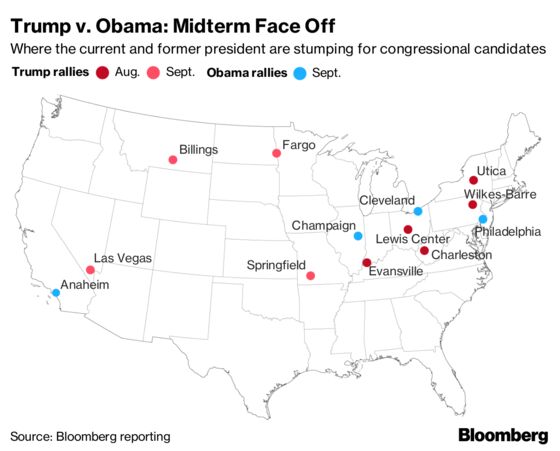 In Nevada and Missouri, Kavanaugh's nomination and how Ford is treated may carry outsize weight both because of the gender of the candidates and the composition of the electorate. Women outnumber men among registered voters in both states, as they do in the nation as a whole, according to the U.S. Census Bureau. And six in 10 likely female voters said they prefer the Democratic candidate in their congressional district, according to a CNN poll conducted Sept. 6-9.
All of that raises the stakes as Republicans consider how to handle Ford and her accusation.
Heller told Republicans in a conference call on Wednesday that he was confident Kavanaugh would be confirmed. "We got a little hiccup here with the Kavanaugh nomination; we'll get through this and we'll get off to the races," he said on the call, meant to gin up enthusiasm for Trump's visit to the state, according to the Nevada Independent.
Hawley told radio host Hugh Hewitt on Wednesday that Ford "should be allowed the chance to testify" but that Democrats had staged an "ambush" against Kavanaugh by submitting a letter from the professor outlining her allegation to the FBI only after his confirmation hearing.
"The games they have played with this nomination have been just unbelievable," he said.
The argument over Kavanaugh is stirring deeper passions about how women are treated in workplaces and schools, Democratic pollster Geoff Garin said.
"The last few days have definitely created a conversation in the country not so much about Kavanaugh but whether and how women are listened to," Garin said. "And this is a subject on which Republicans generally and many Republican candidates specifically have real vulnerabilities," including Trump, who has "been a little less bellicose" on Ford because "there's a lot of personal history here," Garin added.
Trump has said that Ford has a right to tell her story and has largely held back from attacking her or Senate Democrats.
Demand Justice, a Democratic group campaigning against Kavanaugh's confirmation, said earlier this week that it would spend $700,000 on ads to pressure a handful of Senate Republicans -- including Alaska's Lisa Murkowski and Maine's Susan Collins -- on the vote. It also includes a six-figure buy in Nevada for a spot highlighting Ford's letter to Senator Dianne Feinstein of California describing the alleged 1982 incident. "When fifteen-year-old Christine tried to scream, her attacker covered her mouth so no one could hear her," a female narrator says. "Will Dean Heller listen to her now?"
With Rosen casting Heller as in lockstep with Trump, who lost Nevada to Hillary Clinton by 2.4 percentage points in 2016, Heller is choosing to embrace the president.
"They're going to get painted as a Trump lackey, so they might as well get the advantages associated with that," said David Damore, the chairman of the political science department at the University of Nevada, Las Vegas. That includes getting fundraising help from Trump and the Thursday rally, which while taking place in Las Vegas is aimed at firing up the state's rural voters.
In Missouri, McCaskill came out against Kavanaugh on Wednesday in the heat of the sexual assault controversy.
McCaskill said that that, "while the recent allegations against him are troubling," her decision to oppose Kavanaugh is "not based on those allegations but rather on his positions on several key issues, most importantly the avalanche of dark, anonymous money that is crushing our democracy."
Steven S. Smith, a political science professor at Washington University in St. Louis, said McCaskill doesn't need to talk about the sexual assault controversy to benefit from it politically. The national media coverage of the controversy is "probably going to grow the gender gap, turning women even more against the Republicans," Smith said.
"Suburban women are the single biggest factor in a place like Missouri, with two big suburban communities in St. Louis and Kansas City that have traditionally gone Republican but where the gender gap right now is large," he said. "Anything that stimulates more turnout among suburban women is going to greatly hurt the Republicans and help the Democrats."