Merkel Pledges to Put Lid on German Coalition Clash This Weekend
(Bloomberg) -- Another week, another coalition crisis for Angela Merkel.
Just days after Germany's chancellor said her government had a deal to remove the domestic intelligence chief over his stance on anti-migrant protests, the accord fell apart Friday in a renewed sign of political fragility in Europe's biggest economy. Merkel said she'll find a new solution this weekend.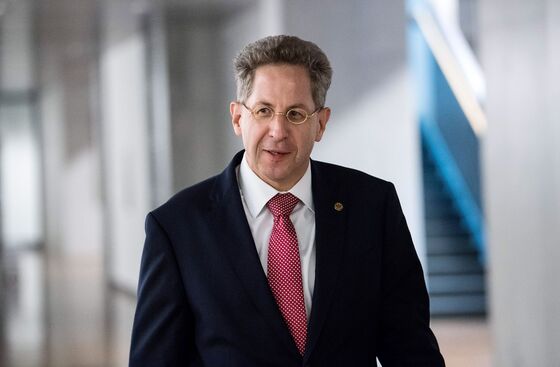 The case of Hans-Georg Maassen, who defied Merkel by suggesting that a video of far-right protests in August might be fake, shows how the chancellor is hemmed in by coalition partners she needs to govern. When it emerged that Maassen's ouster included a promotion to another government job with higher pay, the Social Democrats -- the junior government party -- revolted against a deal their leader had backed on Tuesday.
"This is theater of the absurd," Marco Buschmann, a lawmaker for the opposition Free Democratic Party, told reporters.
It's a sign that gridlock risks becoming the norm in Merkel's government, which took office in March after support for her Christian Democratic-led bloc and the Social Democrats fell to historic lows in Germany's election last year. Like much of the turmoil in her fourth term, the conflict is rooted in political fallout from the refugee crisis that hit Germany in 2015.
With SPD head Andrea Nahles calling on Friday for the deal on Maassen to be re-examined, Merkel and Interior Minister Horst Seehofer, who heads her Christian Democratic Union's sister party in Bavaria, said they were open to revisiting it.
Merkel acknowledged that the clash has been a distraction.
"In view of the many foreign and domestic challenges, we need full concentration on the task of government," Merkel told reporters in an impromptu statement in Munich late Friday. "We want to find a lasting, joint solution over the course of this weekend."
After almost 13 years in office, Merkel is presiding over a party landscape splintered by the impact of migration, which has eroded her popularity, split public opinion and lifted a far-right party, Alternative for Germany, into parliament for the first time since the immediate aftermath of World War II.
It's the second time this year that Seehofer has clashed with the chancellor even though their two parties are allied at the national level. In June, a conflict over his CSU's demand to crack down on asylum seekers at the German border brought Merkel to the brink of losing her parliamentary majority.
The renewed conflict was stoked by a looming state election in Bavaria and Seehofer's expressions of support for Maassen, whose federal agency is responsible for domestic surveillance of extremist threats, including neo-Nazis. Polls suggest the CSU will lose its majority in the Bavarian legislature in the Oct. 14 ballot and support for Alternative for Germany, or AfD, will surge.
Nationally, support for the CDU-CSU fell to 28 percent in an Infratest Dimap poll for broadcaster ARD, the lowest level since the poll's inception in November 1997 and almost 5 percentage points less than bloc's tally in the 2017 election. Alternative for Germany, or AfD, rose 2 points to a record of 18 percent, according to the Sept. 17-19 poll of 1,035 people.