Internal GOP Poll: Pelosi Beats Trump in a Head-to-Head Matchup
(Bloomberg Businessweek) -- President Trump likes to mock Nancy Pelosi, but a private survey conducted for the Republican National Committee finds that she's actually more popular—and beats the president when the midterm election is framed as a contest between the two.
The internal poll, conducted by Public Opinion Strategies and obtained by Bloomberg Businessweek, asks registered voters who they support "when the November election is framed by Trump and Pelosi." Overall, respondents prefer Pelosi-aligned candidates over Trump-aligned candidates by 5 points, 50 percent to 45 percent. Among independents only, Pelosi still prevails by a 4-point margin. The poll was completed on Sept. 2.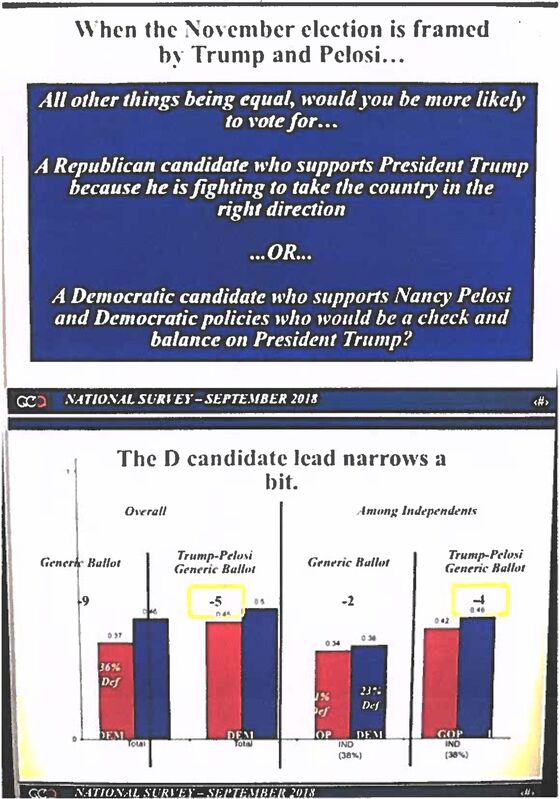 Trump routinely criticizes the 78-year-old Democratic House minority leader. In a sarcastic Aug. 10 tweet, he wrote: "Democrats, please do not distance yourselves from Nancy Pelosi. She is a wonderful person whose ideas & policies may be bad, but who should definitely be given a 4th chance. She is trying very hard & has every right to take down the Democrat Party if she has veered too far left!"
Pelosi hasn't hesitated to return fire. "Every single day, I find myself asking: what do the Russians have on @realDonaldTrump personally, financially, & politically? The answer to that question is that only thing that explains his behavior & his refusal to stand up to Putin," she tweeted on July 16.
What makes the internal poll results so tantalizing—and embarrassing for Trump—is that Republicans have spent years gleefully caricaturing Pelosi as the embodiment of effete, out-of-touch coastal liberalism. That helped power Republican gains in the past two midterm cycles, 2010 and 2014.
Facing the likelihood of Democratic advances in November, Republican strategists are eager to frame the midterm elections in a way that will minimize the damage. So they may stick with the tried-and-true approach of attacking Pelosi—even though their own party's poll shows her outperforming Trump. The alternatives are worse. The RNC survey finds that on a generic congressional ballot, voters favor the Democratic candidate by 9 points over the Republican.
The poll also finds that criticizing Pelosi and Hillary Clinton "help[s] coalesce the GOP base and win over key constituencies," such as independent women and Hispanic men. All in all, that might be Republicans' best option. The study's authors think so, urging Republicans to adopt a message trained on Pelosi: "America would simply turn back the clock if Democrats take control of Congress and liberal Nancy Pelosi and her allies get to enact their agenda; it could mean higher taxes, open borders, the end of Medicare as we know it, and the end of ICE."
A spokesperson for the RNC declined to comment.
To contact the editor responsible for this story: Matthew Philips at mphilips3@bloomberg.net