Kavanaugh Accuser Has Deadline to Decide Whether to Testify
(Bloomberg) -- The Senate Judiciary chairman gave the woman who accused Brett Kavanaugh of sexual assault more time to decide if she'll accept the panel's terms to testify at what would be a blockbuster confrontation with President Donald Trump's second Supreme Court nominee.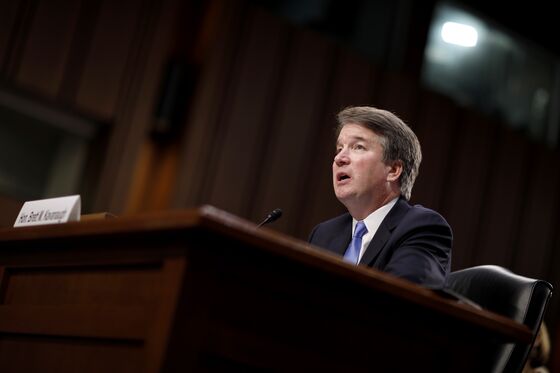 Committee Chairman Chuck Grassley said on Twitter shortly before midnight Friday, "Judge Kavanaugh I just granted another extension to Dr Ford to decide if she wants to proceed" with testimony. "She shld decide so we can move on I want to hear her. I hope u understand," the chairman wrote, saying that he normally isn't indecisive.
Earlier on Friday, a lawyer for Christine Blasey Ford asked for another day to make a decision, accusing Grassley of bad faith in a "take-it-or-leave-it" negotiation. Grassley, an Iowa Republican, had told Ford she must decide by 10 p.m. Washington time Friday or his committee would move ahead with a vote on Kavanaugh's nomination Monday.
Katz, in a letter to committee staff Friday night, accused the panel of "cavalier treatment of a sexual assault survivor," and said Ford needed a day to consider the proposal. Ford, a California college professor, met with the FBI for several hours Friday regarding death threats she has received since going public with her accusation, Katz said.
"The 10 p.m. deadline is arbitrary," Katz said in the letter. "Its sole purpose is to bully Dr. Ford and deprive her of the ability to make a considered decision that has life-altering implications for her and her family." The Associated Press reported that the new deadline is 2:30 p.m. EDT.
Kavanaugh has strongly denied that any attack occurred.
In another twist, an adviser helping to coordinate Grassley's response to the allegations against Kavanaugh has resigned, a person familiar with the move said on Saturday. Aide Garret Ventry had faced, and previously denied, allegations of sexual harassment at a previous job in North Carolina.
Kavanaugh's confirmation hangs in the balance. With Nov. 6 elections approaching that will determine control of the House and Senate, Republicans are under intense pressure to consider the allegation in a way that doesn't turn women and independents away from the party while moving the nomination forward as quickly as possible, as Trump and other Republican leaders want.
Judiciary Republicans had proposed a hearing for Sept. 26 on Ford's allegations, a day earlier than she was seeking, as both sides stepped up the pressure. Republicans rejected conditions sought by Ford, including her request to call other witnesses in addition to her and Kavanaugh.
At a rally in Springfield, Missouri, on Friday night, Trump urged his supporters to get behind Kavanaugh, 53, saying women in particular support his confirmation.
"We have to fight for him," the president said. "And by the way, women are for that more than anyone would understand."
Trump, in a tweet Friday morning, cast doubt on Ford's allegations for the first time after several days in which the president pulled his punches.
"I have no doubt that, if the attack on Dr. Ford was as bad as she says, charges would have been immediately filed with local Law Enforcement Authorities by either her or her loving parents," Trump wrote. "I ask that she bring those filings forward so that we can learn date, time, and place!"
Vice President Mike Pence backed Kavanaugh in a speech at the Values Voter Summit in Washington Saturday, praising the nominee as a man of integrity with impeccable credentials.
"The way some Democrats have conducted themselves during this process is a disgrace and a disservice to the Senate and the American people," Pence said. "The president and I are confident the Senate Republicans will manage this confirmation properly, with the utmost respect for all concerned."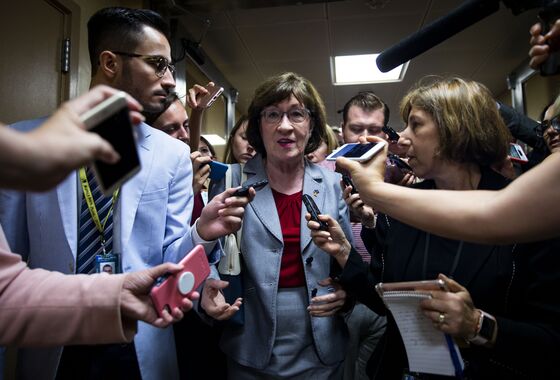 Moderate Republican Senator Susan Collins of Maine, whose vote is seen as crucial to Kavanaugh's confirmation in a chamber controlled by Republicans 51-49, said Friday she was "appalled" by Trump's tweet, the Portland Press Herald reported.
"We know allegations of sexual assault are one of the most unreported crimes that exist," Collins said at an event in Portland, according to the newspaper.
Ford says Kavanaugh sexually assaulted her at a Maryland house party in the early 1980s when both were high school students. Kavanaugh said in a letter Thursday to Grassley, an Iowa Republican, that he was prepared to come before the panel to "clear my name."
Ford says that Kavanaugh was drunk at the party and that he pulled her into a bedroom then pinned her down on a bed, tried to remove her clothes, and put his hand over her mouth to stop her from screaming. She said she was able to escape, but the Washington Post reported that she described the episode to a therapist in 2013 as a "rape attempt."
Democrats demanded that the FBI look into Ford's claim, but Trump refused to call for an investigation.
Ford also asked that Mark Judge, a classmate of Kavanaugh's who she says was present when the alleged attack occurred, be called to testify. Judge has said he doesn't recall any such incident. Grassley said Friday that no additional witnesses would be called.