Brazil Front-Runner's Economic Guru Recoils After Tax Fiasco
(Bloomberg) -- The top economic adviser to Brazilian presidential front-runner Jair Bolsonaro is ducking the limelight after an apparent dress-down from his boss over a tax plan.
Paulo Guedes canceled his public appearances for a second straight day after Bolsonaro denied reports that they intended to re-create a levy along the lines of the so-called CPMF, a financial transaction tax that ended over a decade ago. Guedes didn't respond to requests for comment but earlier in the month told Bloomberg he would consider implementing a broad transaction tax while eliminating several others. Earlier on Friday he canceled two scheduled talks, including one at the American Chamber of Commerce in Sao Paulo. On Thursday he called off an event at Credit Suisse.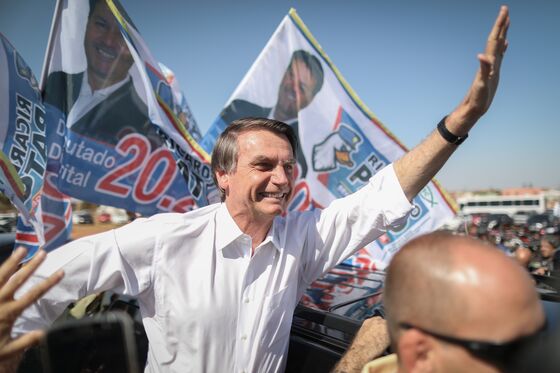 In an interview with Folha de S.Paulo newspaper later on Friday, Bolsonaro said Guedes "remains solid" in his campaign and suggested the whole episode could have been a misunderstanding. Guedes spoke with Bolsonaro by phone on Friday and is scheduled to visit him in the hospital on Saturday, Folha reported.
Investors fear a growing rift between Bolsonaro, a right-wing former Army captain, and his market-friendly adviser, who is considered the guarantor of the candidate's recently-adopted liberal economic agenda.
"Markets should take heed," tweeted Monica de Bolle, head of Latin American studies at Johns Hopkins University's international studies school. "The presumed economic czar will have no power under the leadership of the far-right candidate."
Bolsonaro, who remains hospitalized after being stabbed on Sept. 6, also reportedly rebuked his vice-presidential candidate, General Hamilton Mourao, for hard-line remarks that undermined his latest attempts to moderate campaign rhetoric.
In a tweet on Friday, Bolsonaro dismissed the whole episode about taxes as irresponsible lies. "Free market and fewer taxes is my motto in the economy."