Romania's Leader Is Facing a Challenge From Ruling-Party Rebels
(Bloomberg) -- Ruling-party rebels are mounting a challenge to topple Romania's de facto leader, saying they want to repair the image of a government that's been tarnished by corruption scandals and a recent crackdown on protesters.
A group inside the Social Democrats' leadership released a public letter on Wednesday urging Liviu Dragnea to quit as party boss and parliament speaker. Signatories include Bucharest mayor Gabriela Firea, Deputy Prime Minister Paul Stanescu and Senate Deputy Speaker Adrian Tutuianu. He said other senior party members are also unhappy.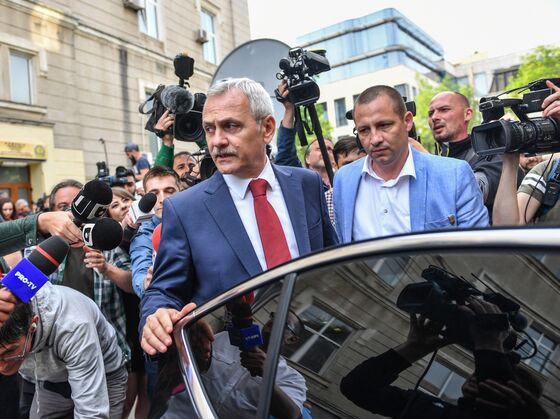 The uprising follows efforts led by Dragnea to weaken a crackdown on corruption with criminal reforms that could also ease his own legal problems: a conviction for vote-rigging has prevented him from taking the role of prime minister. As well as drawing hundreds of thousands of protesters to the streets, the judicial revamp has prompted warnings from President Klaus Iohannis, the European Union and the U.S.
"Our undertaking is about the country and the ruling party, and we're asking Liviu Dragnea to step aside from the two positions as this generates a vulnerability for the party," Tutuianu said in a televised speech from Bucharest. "Even though our party isn't isolated abroad, there are some perceptions of a lack of trust in the party from abroad and we want to improve our relations within the EU."
The Social Democrats will hold a leadership meeting Friday to discuss the calls for Dragnea's exit. The group wants Prime Minister Viorica Dancila, a Dragnea ally, to become interim party leader until a new chairman can be elected early next year.
Dragnea is fighting the rebellion and says his departure would require a party vote.