Italy's Five Star Eyes Extra Spending, Pressuring Tria
(Bloomberg) -- Italy's Five Star Movement is ratcheting up the pressure on Finance Minister Giovanni Tria as the populist party, one of two members of the ruling coalition, seeks more funding for its programs in the coming budget and signals its willingness to boost the deficit.
Deputy Prime Minister Luigi Di Maio is seeking a 28 billion-euro ($33 billion) budget adjustment including 10 billion euros for the so-called "basic income," one of the key campaign promises his party made during national elections in March, Corriere della Sera reported. His plan calls for an increase in the deficit-to-GDP ratio to 2.5 percent, the newspaper said.
"Useless and unnecessary expenditures," will be slashed to find money for the 2019 budget, Di Maio said in a Facebook video from Chengdu, China where he is on an official trip. If that is insufficient, "we will have to rely on a little bit of extra deficit, so that we'll be able to stimulate growth, which will help us cut the debt ratio of GDP in the long run." He reiterated that Italy will remain below the EU's 3 percent deficit limit.
"I have always said that we need to implement what we promised or otherwise they will send us home," Di Maio said. He said the government plans to gradually introduce its new income-support tool, as well as tax cuts, and a reduction of the retirement age. He denied that there is a conflict with the finance minister saying he has "full confidence in Tria."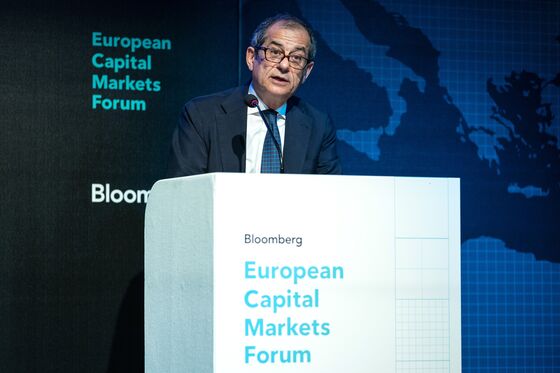 Tria for his part is continuing to hold the line at a 1.6 percent deficit for 2019, La Stampa reported. The coalition, comprised of Five Star and the rightist League party, is expected to set new finance and growth targets by Sept. 27 and present them to parliament. A draft budget has to go to the European Commission by Oct. 15.
In a post on Instagram on Tuesday Prime Minister Giuseppe Conte said he discussed with chief whips of the Five Star Movement in the Italian parliament the need for "the citizens' income reform which will be part of the budget to have a meaningful impact on society." He said it would "improve the conditions of all those people in absolute poverty."
Italy's 10-year bond yield rose 6 basis points to 2.85 percent as of 4:12 p.m. in Rome.
"Italian yields have receded as the headlines have narrowed the range for the 2019 fiscal deficit" to a range between 1.6 and 2 percent," Deutsche Bank economists Clemente De Lucia and Mark Wall said in a report. "Deficits in this range are consistent with short-term debt stability but not necessarily with the EU rules."
Speaking to Radio Capital on Wednesday, Deputy Finance Minister Laura Castelli from Five Star said that a 1.6 percent deficit in 2019 "would mean doing almost nothing" in terms of program implementation.
Castelli and the League's Massimo Garavaglia, the other deputy finance minister, reiterated on Wednesday that they have good relations with Tria, denying media reports of frictions.
Late Tuesday, Di Maio said that "a serious government minister must find the money somehow" for the government's reform plans, Ansa news agency reported. Tria told Di Maio on Monday that he'd resign if asked, Stampa reported.
Addressing the Italian business community at a Bloomberg-organized conference in Milan on Tuesday, Tria highlighted priorities including a reduction in the income tax burden and improving social protection for the poor. The finance chief also said he's aiming for a "manageable budget impact" with an emphasis on more public investment.