Bolsonaro's Running Mate Threatens to Derail His Moderation Strategy
(Bloomberg) -- Brazil's far-right presidential candidate Jair Bolsonaro rose to prominence due to his incendiary rhetoric. Now his vice-presidential pick seems determined to surpass him, just as the former paratrooper seeks to moderate his message.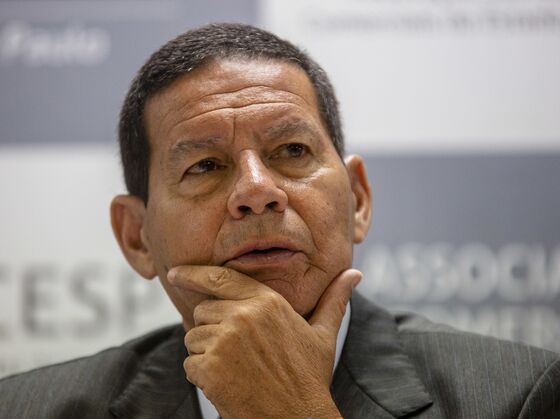 With Bolsonaro absent from the campaign trail since he was stabbed by a fanatic on Sept. 6, his running mate General Hamilton Mourao has moved into the spotlight, not least due to the fact vice-presidents have often taken the top job in Brazil. President Michel Temer is the third to do so since the 1985 return to democracy.
With Brazil's electorate bitterly polarized, Bolsonaro leads the polls but looks likely to face a runoff vote against a leftist. Traditionally, candidates tack towards the center to win the second round, but Mourao appears reluctant to soften his tone. Following the stabbing, Mourao cast blame on the left. If they want to use violence, we're the violence professionals, a local media reported him as saying. Despite a call from Bolsonaro asking him to dial it down, hours later he was defending the dictatorship on TV: "Excesses were committed. Heroes kill," he said.
"I'm certain Bolsonaro has the same views that Mourao does; if he didn't, he wouldn't have asked him to be his VP," said Monica de Bolle, head of Latin American studies at Johns Hopkins University's international studies school. "These former military officers have no real commitment to maintain democratic institutions."
Mourao visited Bolsonaro in the hospital on Tuesday, and the candidate requested he suspend his campaign plans as the election is entering a decisive moment and his team cannot run any more risks, local media Agencia Estado reported. Neither Mourao nor his press advisor immediately responded emails requesting comment.
Bolsonaro's son Eduardo, a fellow lawmaker, defended Mourao's comments in a telephone interview with Bloomberg. "Each person is acting in his own area," he said, adding that the campaign's decentralized nature reflects what they intend for his father's potential administration. "Mourao has the autonomy to do what he understands is best. I'm certain he will do what's best."
Bolsonaro has long courted controversy. In a 1999 interview he said nothing can be changed in Brazil with a democratic vote, but rather only through civil war and executions. Since the race has heated up, he's reined in some of that flame-throwing. His 81-page government plan contains several reassurances change will be achieved while respecting laws and the constitution, and that no one will be persecuted.
Mourao, by contrast, said in the Sept. 7 televised interview that the government could theoretically enact a self-coup, with armed forces obliged to act in a situation of anarchy, backing up previous comments that were perceived as supporting military intervention. Military personnel are playing an increasingly active political role in this election.
When Mourao was chosen for the ticket, Eduardo Bolsonaro offered one clear reason for the pick. "Who will work for the impeachment of Bolsonaro if his vice is Mourao?" he said by email at the time.
Speaking in an interview with Bloomberg, Mourao said that when it comes to campaigning he'll need to strike a different path to Bolsonaro, whose rallies draw crowds of fans he can't hope to muster himself. He's focused instead on talking to commercial associations and business groups, and will make other appearances where possible, he said on Sept. 11.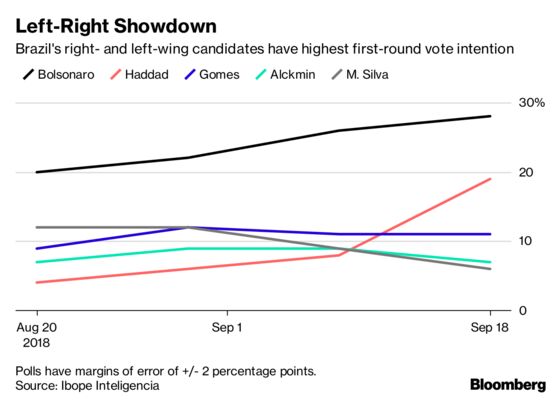 Addressing an event coordinated by a Sao Paulo homebuilders association on Monday, Mourao said homes with children raised by single mothers and grandmothers are "misfit factories" producing drug traffickers. The comment drew widespread condemnation, particularly from women -- a key group Bolsonaro's campaign has been trying to attract.
On Sept. 13, Mourao told Estado de S. Paulo that legal experts should draft a new, narrower constitution to be ratified by plebiscite, bypassing a constituent assembly, and that elected representatives drafting the 1988 magna carta had been an error. He clarified this was his opinion, not that of Bolsonaro, but it has raised questions about the presidential candidate's commitment to the Brazilian constitution.
"If you want to elect Bolsonaro, enjoy it, because it will be your last vote," Celso Rocha de Barros, an Oxford-trained sociologist, wrote at the start of a column published by newspaper Folha de S. Paulo on Sept. 17.
Eduardo Bolsonaro, meanwhile, said that no one on the campaign team can replace the presidential candidate.
"When my father comes back, he will be our general," he said. "He will be the person who commands."