Bannon's Plan to Unite Europe's Nationalists
Steve Bannon comes to Europe with a mixed reputation: he took the White House, only to fall out of favor with the president he helped get there.
The former Trump strategist's road to redemption now runs through Brussels: Bannon has plans to galvanize nationalist parties into a loose alliance to fight next year's elections to the European Parliament.
His Brussels-based group The Movement will offer polling, data analytics, messaging and so-called war room services, free of charge, to parties that share an anti-migration, EU-skeptic ideology. The aim is to gain at least a third of the European Union assembly's seats to be able to block all moves at closer integration of the bloc.
That's a red rag to Emmanuel Macron, the pro-EU French president and champion of Europe's Enlightenment values, who has appointed himself the leader of "progressive" forces ahead of May's elections in all 27 EU countries.
There are hurdles to overcome on both sides: Macron is struggling to rally Europe's established parties behind his upstart movement; and nationalists are uneasy bedfellows at the international level.
But all agree a battle royal is looming for Europe's liberal soul and future direction. This time no-one is underestimating Bannon's ability to pull off an upset.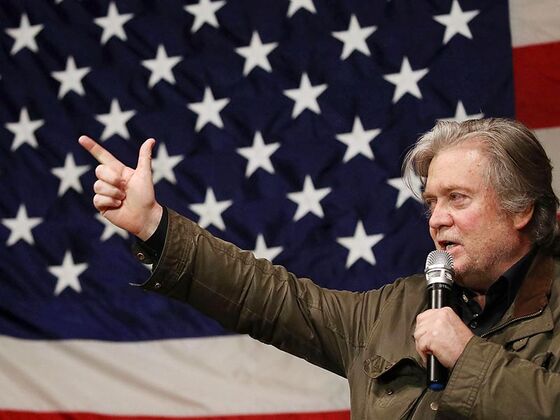 Accuser's demands | The U.S. Senate Judiciary Committee is refusing to delay a Monday hearing into a sexual assault accusation against Supreme Court nominee Brett Kavanaugh, rejecting demands from his accuser that the FBI investigate the matter first. Some Republican senators are calling for a vote next week even if California professor Christine Blasey Ford declines to testify.
Ball in Trump's court | Kim Jong Un looks like he did just enough to get stalled talks with U.S. President Donald Trump back on track, without coming close to giving up North Korea's nuclear weapons. Youkyung Lee and David Tweed analyse the second day of meetings between Kim and Moon Jae-in, the first South Korean leader to visit Pyongyang in 11 years.
Fallout risks | German Chancellor Angela Merkel averted a loss of face and another blowup in her governing coalition by removing her domestic intelligence chief, who had questioned her reaction to a bout of far-right unrest last month. Yet, as Arne Delfs and Birgit Jennen write, the tactical move is unlikely to resolve fundamental tensions over migration that previously undermined the coalition's stability in June.
Youth vote | Young Indians have a simple message for their politicians: more jobs, please. With as many as 130 million first-time voters — more than the population of Japan — eligible to vote in polls due by May, Prime Minister Narendra Modi's failure to deliver on a promise of a surge in job creation is becoming a rallying call for rivals looking to dent his popularity.
Tricky mix | U.S. investors are facing a challenging combination: Trump's erratic politics, unfolding against the backdrop of the strongest economy in years. Emily Barrett and Liz Capo McCormick take a closer look at efforts to reconcile the competing dynamics.
Trump travels to North Carolina to view Hurricane Florence recovery efforts.
High-level Nafta negotiations are set to resume in Washington, where Republicans are warning time is running out for Canada to join the U.S. and Mexico in a trilateral deal.
Sweden is headed for a political showdown next week that could end in a vote to oust the prime minister and kick off months of tense talks to avoid a snap election.
And finally ... Trump's name could adorn a new construction site in Europe, but it's not a hotel. Washington is looking "very seriously" at establishing a permanent military base in Poland, an ex-communist NATO member that has long called for a bigger presence of American troops to ward off aggression from neighboring Russia. Appealing to his counterpart's penchant for eponymous projects, Polish President Andrzej Duda suggested the facility could be named "Fort Trump." Another thing the U.S. president likes? Poland has offered to pay $2 billion to build it.