After Stocks Shrug Off Tariffs, We Can Talk About Them Forever
(Bloomberg) -- Looking at how well stocks performed Tuesday, you might be surprised to remember that Washington announced tariffs on $200 billion of Chinese goods and Beijing then retaliated the same day. But even if markets shrugged off the news, it's a sign trade fears will endure longer.
U.S. President Donald Trump ordered additional duties to take effect this month, with the rate set to more than double in January if no agreement is reached. That stocks still edged higher shows traders took the move in stride, but beyond the calm, the announcement indicates the White House is pushing more aggressively, and that trade headlines may keep coming even beyond November's mid-term elections.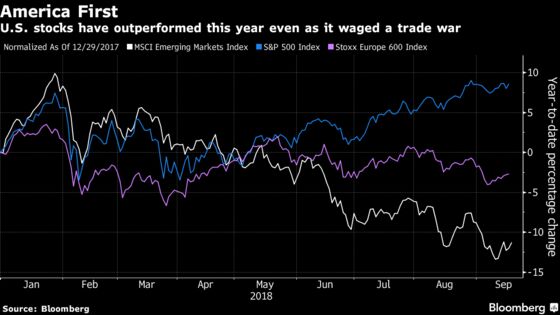 That's bad news for stocks in emerging markets, Europe and cyclical sectors, which have all suffered on concerns rising trade protectionism will hit global growth. It's likely good news for U.S. stocks, which have outperformed so far this year thanks to a relatively closed economy.
"The major drivers behind this hawkish stance on trade from Washington's side are structural in nature; they're not tactical; they're not short-term politically moderated," said Witold Bahrke, a senior macro strategist at Nordea Investment Funds in Luxembourg. "It's a proxy war over future economic supremacy."
The timing of the trade war is also perfect: A strong U.S. economy and earlier tax cuts make it easier for Trump to drag this on, he added.
The U.S.-China trade war matters for Europe, whose economy is dependent on exports. Fears over rising trade barriers and the Italian budget have overshadowed solid economic and earnings growth in the region this year. Now even though there are signs Italy won't seek to breach EU budget rules, trade worries look set to linger for much longer.
In a sign of caution, while cyclical shares like autos rallied this week, their relative performance is still lagging the recent rebound in bond yields.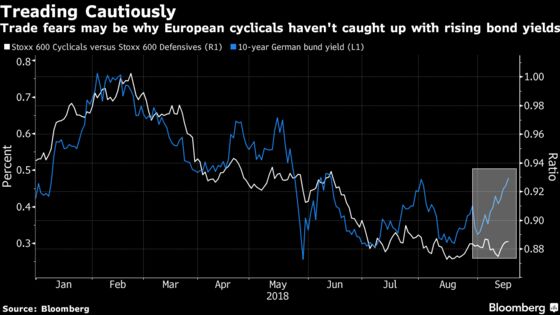 Markets would react more negatively if China retaliates through means other than tariffs, Mark Haefele, global chief investment officer at UBS Wealth Management, wrote in a note. These measures include impeding U.S. companies' business in China, actively weakening the yuan and selling its U.S. Treasury holdings.
"Regardless of next steps, we expect trade tensions between the U.S. and China to linger long past the midterm elections," he wrote. "Trade tensions will get worse before they get better."