Trump Defends Kavanaugh While Signaling Possible Delay in Vote
(Bloomberg) -- President Donald Trump defended Supreme Court nominee Brett Kavanaugh amid allegations of sexual assault but suggested he'd be open to postponing a confirmation vote.
"If it takes a little delay, it'll take a little delay," Trump told reporters at the White House Monday, adding that he hadn't spoken to Kavanaugh that day. The president also said Kavanaugh is one of "the finest people I've ever known." Trump dismissed a question about whether Kavanaugh offered to withdraw.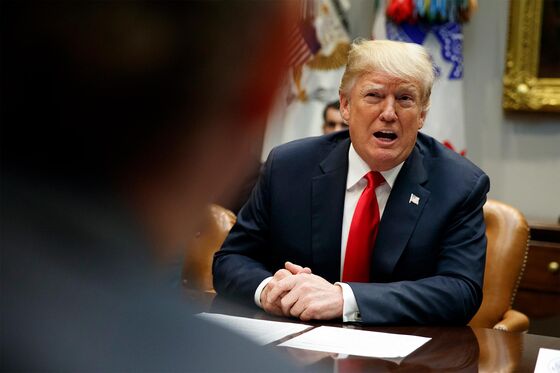 Kavanaugh and the woman who made the accusation, Christine Blasey Ford, have said they're willing to testify before the Senate Judiciary Committee as Republicans debate how to handle the allegations that threaten to derail his confirmation. The nomination is scheduled for a Thursday vote by the panel, but a growing number of Republicans suggested Monday the vote may need to be delayed.
Senator Roy Blunt of Missouri, a member of Senate GOP leadership, said, "These are serious allegations that need to be looked at closely by the committee before any other action is taken."
Senator Susan Collins, a pivotal GOP vote, told reporters that Kavanaugh "emphatically denied" the allegation when she spoke with him by phone on Friday. Before making a judgment, she said, she wants to see "testimony under oath with a lot of questions asked of both of them."
"Obviously, if Judge Kavanaugh has lied about what happened, that would be disqualifying," said Collins of Maine. The senator said she was told that Judiciary Committee Republicans would meet Monday to decide what to do.
Kavanaugh said Monday he's willing to talk to the Judiciary Committee in any forum to "defend my integrity."
"This is a completely false allegation. I have never done anything like what the accuser describes -- to her or to anyone," Kavanaugh said in a statement issued by the White House. "Because this never happened, I had no idea who was making this accusation until she identified herself yesterday." Kavanaugh visited the White House for a meeting Monday morning, said a White House official who didn't give further details.
The allegation puts heavy pressure on moderate senators who must decide whether to vote for Kavanaugh at the risk of angering the "Me Too" movement. That growing backlash against men facing claims of sexually abusing women has already forced the resignations of top executives and some lawmakers. Collins and fellow GOP Senator Lisa Murkowski of Alaska haven't said whether they'll vote to confirm Kavanaugh, nor have a handful of Democrats from states that backed Trump in 2016.
It's also a significant challenge for Republicans who are struggling to win suburban women's votes in the Nov. 6 election that will decide control of the U.S. House and Senate.
Prospects for a swift confirmation were put in doubt amid calls from key GOP senators and Democrats for an investigation. But Senate Majority Leader Mitch McConnell of Kentucky, in a floor speech, backed Judiciary Chairman Chuck Grassley's strategy of having staff interview Kavanaugh and Ford instead of holding a public hearing.
Senate Minority Leader Chuck Schumer, a New York Democrat, said the GOP needs to call Ford before the committee, adding, "What are they afraid of? Are they afraid she might be persuasive?"
Ford, a California university professor, is "willing to do whatever it takes to get her story forth," her attorney, Debra Katz, told NBC's "Today" show. Katz told CNN in a separate interview that Ford hasn't been contacted yet by the committee.
GOP Senator Orrin Hatch of Utah, a senior Judiciary Committee member and strong backer of Kavanaugh, said he spoke Monday with the nominee, who insisted that he was innocent and that he wasn't at the party where he is accused of attacking Ford. Hatch said the matter must be investigated.
Even if Ford's claim turned out to be true, "I think it would be hard for senators not to consider who he is today," Hatch said. "He has denied this and I feel bad that this happened to him."
Grassley of Iowa said in a statement Monday he's working "to get to the bottom of these claims" by setting up phone calls with Ford and Kavanaugh, an option top committee Democrat Dianne Feinstein of California has rejected as inadequate. Grassley blamed Democrats for not previously disclosing the claim by Ford, who had sought to remain anonymous before ultimately agreeing to be publicly identified.
Grassley didn't say whether Thursday's committee vote will go forward. Republicans are aiming for full Senate confirmation before the Supreme Court term begins Oct. 1.
The Washington Post published a detailed account from the accuser on Sunday. Days earlier Kavanaugh had seemed on track for quick approval.
The administration is gearing up for a counteroffensive, a White House official said. The Trump team plans to try to discredit the charges for surfacing late in the confirmation process and to question the credibility of the accuser because she didn't tell anybody about the incident at the time, the official said.
White House adviser Kellyanne Conway told reporters Monday that the accuser's allegations should be heard by the Senate.
"She should not be insulted, she should not be ignored, she should testify under oath and she should do it on Capitol Hill," Conway said. "But that's up to the Senate Judiciary Committee, they should decide the forum. And Judge Kavanaugh should also testify to these 36-year-old allegations."
Murkowski told CNN Monday that she's open to a delay in the committee vote. "If there are more questions that need to be asked and answered, then I think it would be appropriate for that time," she told the network.
The Post identified Ford, a 51-year-old research psychologist and professor at Palo Alto University in California, as the woman whose accusation surfaced last week and raised the first serious doubts about Kavanaugh's confirmation. The newspaper quoted Ford's detailed description of the incident, and said it also viewed notes from a 2013 therapy session in which she had called it a "rape attempt."
The White House on Friday released a statement from Kavanaugh in which the nominee said, "I categorically and unequivocally deny this allegation. I did not do this back in high school or at any time."
The controversy comes 27 years after the bruising confirmation of Supreme Court Justice Clarence Thomas, who was accused of sexually harassing attorney Anita Hill at two federal jobs, including when he chaired the U.S. Equal Employment Opportunity Commission that handles harassment and discrimination issues. Thomas was confirmed on a 52-48 vote.
Sunday's development threatens what would be a major win for Trump's White House and McConnell as they seek to give a strong rightward tilt to the federal judiciary.
Republicans' 51-49 control of the Senate means they need no Democratic support to confirm Kavanaugh.
Kavanaugh could provide the fifth vote to overturn the Roe v. Wade abortion-rights decision. He called Roe an "important precedent" during his Senate Judiciary confirmation hearing but refused to say whether the ruling was correct.
Kavanaugh's potential impact on the abortion debate is a risk to the GOP's already lackluster standing with women, and the sexual assault allegation could make things worse. Female voters preferred Democratic candidates over Republican ones by 54 percent to 33 percent, while 62 percent of women disapproved of Trump's job performance, according to an NPR/PBS NewsHour/Marist poll in July.
The Post quoted Ford as saying Kavanaugh and a friend were "stumbling drunk" when they took her into a bedroom during a party in a house in the Maryland suburbs of Washington. Kavanaugh pinned her to the bed and groped her through her clothes, grinding his body against hers and trying to pull off her clothes, the Post quoted Ford as saying. She said that when she tried to scream, he put his hand over her mouth. She said she believed the attack occurred in 1982.
"I thought he might inadvertently kill me," the Post quoted Ford as saying. She said Kavanaugh's friend, Mark Judge, jumped on top of them, sending them tumbling, and she was able to escape, the newspaper reported. She said she went home and didn't tell anyone until she and her husband were in couples therapy in 2012.
The Weekly Standard quoted Judge on Friday as saying no such incident ever occurred.
The Post said it viewed notes from that session and an individual therapy session the following year. The paper said the 2013 notes showed that Ford described a "rape attempt" in her late teens. Her husband, Russell Ford, told the newspaper that when she described the incident in the 2012 session, she used Kavanaugh's last name and said she was concerned he might eventually be nominated to the Supreme Court. He has been a federal appeals court judge since 2006.
Ford and Katz, her lawyer, didn't return calls seeking comment.