Lula's Heir Would Face Bolsonaro in Brazil Runoff, Poll Says
(Bloomberg) -- Fernando Haddad, leftist former President Luiz Inacio Lula da Silva's chosen successor, would face front-runner Jair Bolsonaro in a runoff vote for Brazil's presidency, according to the latest opinion poll published on Monday.
Bolsonaro would get 28.2 percent of first-round votes, followed by Haddad with 17.6 percent, according to an MDA survey published by the National Transportation Confederation. The poll showed ex-Ceara state Governor Ciro Gomes trailing with 10.8 percent, followed by market-friendly candidate Geraldo Alckmin with 6.1 percent. In a simulation for a runoff vote, Bolsonaro would get 39 percent against 35.7 percent for Haddad.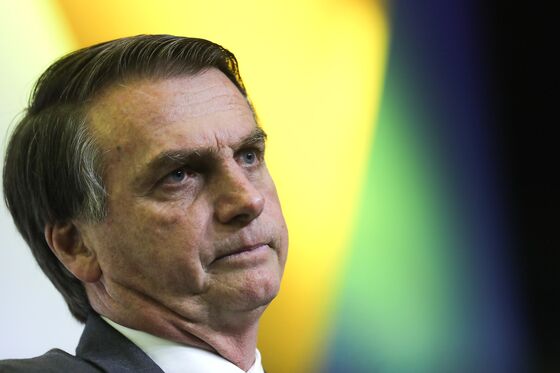 The poll is the first to show Haddad breaking away from a crowded pack of candidates and placing firmly in second. The survey corroborates others conducted in recent days, which showed Haddad's support jumping into the double-digits after he received Lula's official backing. Those gains, coupled with Alckmin's failure to gain traction, have stoked investor concerns that the next administration may shun market-friendly reforms including a pension overhaul.
Brazil's real gained 0.2 percent against the U.S. dollar in early afternoon trading, but has hovered near a record low this month.
Haddad and Gomes are the strongest contenders for a spot in a likely Oct. 28 runoff vote alongside Bolsonaro in what's shaping up to be a polarized second round of vote. Both are vying for supporters of Lula, who had his candidacy rejected by electoral authorities after his jail sentence for corruption and money laundering was upheld by an appeal's court.
In an interview with UOL/SBT on Monday, Haddad said that, if he wins the presidency, Lula would have a leading advisory role. Haddad said he would continue to advocate for Lula's release from prison, and added that he wants the former head of state to be acquitted by courts.
Bolsonaro, who was stabbed at a rally earlier this month, was moved to a semi-intensive care unit over the weekend, and shows no sign of infection or fever, according to a hospital statement. Still, his son told a local radio station last week that the former Army captain is in no shape for campaigning before the first round.
The MDA poll interviewed 2,002 people on Sept. 12-15 and has a margin of error of plus or minus 2.2 percentage points. A previous survey carried out by MDA before Lula's candidacy was rejected showed the leftist icon leading the presidential race.