Kavanaugh's #MeToo Moment Imperils Republicans
An eleventh-hour sexual assault allegation lodged against President Donald Trump's Supreme Court nominee is causing fresh electoral concerns for Republicans.
A California college professor's accusation that Brett Kavanaugh attacked her decades ago – charges he's denied – could further mobilize women voters on behalf of Democrats in their drive to wrest control of the House and Senate in November's midterm elections.
Two key Republican senators are now calling for a committee vote on Kavanaugh's nomination set for Thursday to be delayed, and public hearings could provide further embarrassment for a president who himself has been accused of sexual misconduct.
Even if the controversy ultimately stops Kavanaugh's appointment – the #MeToo movement has already felled some top executives and politicians – there are other conservatives the president could pick who would similarly cement the court's shift to the right.
But with opinion polls already showing women voters inclined toward Democrats, the White House's plan to stick by Kavanaugh and seek to discredit his accuser threatens more than just Trump's Supreme Court legacy.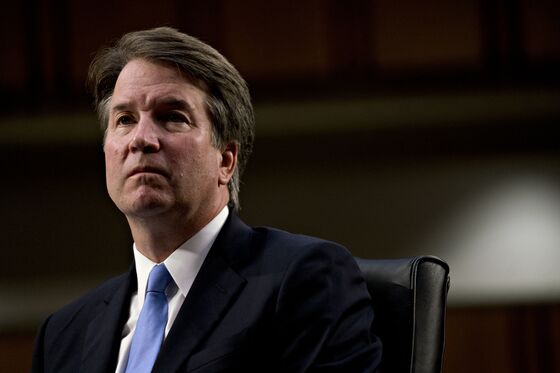 Cloudy outlook | The U.S. is sending mixed messages on its trade dispute with Beijing, potentially sinking prospective negotiations before they begin – and hurting overall prospects for a resolution to the spat. A Wall Street Journal report says that as Trump tells aides to proceed with new tariffs, China is considering declining the offer of negotiations. The uncertainty sent Asian stocks falling today after their rally late last week on optimism over talks.
Brexit deal in sight? | Momentum is building toward a deal on Brexit that should see the U.K. and the European Union hash out terms of withdrawal by November. As always, the biggest threat to Prime Minister Theresa May is back home with rival Boris Johnson attacking her plan as "spectacular political car crash."
Big test | Moon Jae-in will this week make the first visit to Pyongyang by a South Korean leader in 11 years, as his domestic agenda hangs in the balance. Widespread frustration with the economy has brought Moon's sky-high approval ratings down to Earth. But goodwill generated by another historic summit with North Korea's Kim Jong Un could provide him with a bounce.
Climate threat | As warships, soldiers and aircraft are making their way back to key ports and bases emptied in advance of Hurricane Florence, Eric Roston and Mark Niquette report that planners are now left to assess what the Pentagon has warned could become more frequent: large-scale evacuations driven by rising seas and increasingly severe storms. Read the latest on the damage inflicted by Florence here.
Macron misfires | It seems an age since Emmanuel Macron was touted as the figurehead for a resurgent Europe. A horrible run has left the French president looking isolated, ineffective and politically tone deaf. As Helene Fouquet and Gregory Viscusi write, he needs a big result in next year's EU elections to show he's still a force.
Turkish President Recep Tayyip Erdogan holds talks today with Russian President Vladimir Putin, who's backing an operation on the Syrian rebel stronghold of Idlib that could send hundreds of thousands of refugees into Turkey.
And finally ... Turkey's leader has received what could be the most expensive gift in recent political history – a jet worth about half a billion dollars from the emir of Qatar. Erdogan confirmed receipt of the present this weekend as he hit back at critics who'd been questioning whether it was actually paid for with taxpayer money.  His spending habits have long been a focus of attack by opposition parties that say he's wasted precious resources on things like fleets of luxury vehicles and new presidential palace four size the times of Versailles.